As we all sat down and prepared for the Euro 2016 final, everyone all expected a predictable affair. Coming in, Portugal had only won a single game in 90 minutes, stumbling their way through the arguably easier side of the tournament.
Whereas France, the favourites for the trophy, were at an all-time peak as they convincingly took down the world's best national side Germany in a 2-0 blockbuster.
After a stimulating final which featured a rollercoaster of emotions, ranging from tears of sadness and despair, to tears of joy and relief, Portugal were crowned winners via a stunning strike from 25 yards out by former Swansea City striker Éder.
The shock of such a result has in turn, created questions over how Portugal achieved what they achieved. One player who has seemingly gone under the limelight since the end of the tournament is Raphaël Guerreiro, who played his role in the Portuguese defence at left back.
Notably, he penned a deal in June with Bundesliga side Borussia Dortmund, signing from FC Lorient for £9.5 million. Being a week now since the ending of the tournament, we can evaluate his performance and analyse what he will potentially bring to the Signal Iduna Park next season.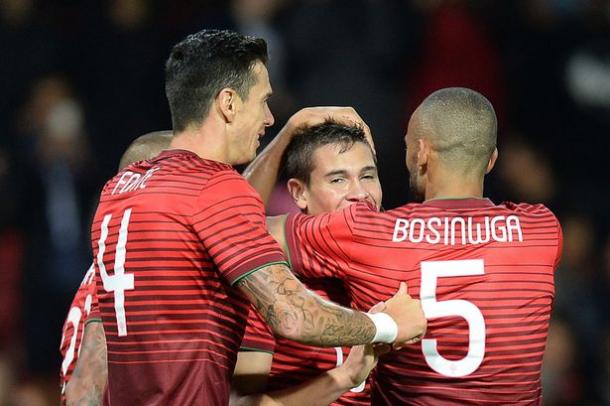 Taking an on the surface look at Guerreiro
Coming from a small French team in FC Lorient, very few knew about Guerreiro before the tournament began. Therefore, his performances throughout Portugal's Euro 2016 campaign would serve as a first impression to the demanding Dortmund supporters who wanted, and expected, a decent showing.
It was however an uncertain factor at the beginning of the tournament whether or not Guerreiro would make the starting XI. Portugal's secondary left-back Eliseu's experience with Liga NOS side Benfica made him a more favourable candidate on a blank canvas. However, it would turn out that Guerreiro would be one of the most consistent starters in Fernando Santos' defence throughout Euro 2016.
From his performances, it is clear that Guerreiro identifies himself as a modern day left back, one that loves going forward and providing an outlet out wide to potentially cross the ball in and create chances offensively.
Overall, he made two assists in the five games he started, which are generally good numbers especially for a left back. One being the crucial cross that Cristiano Ronaldo headed in against Hungary to get them the third seed in Group F and therefore, avoid dropping out of the tournament.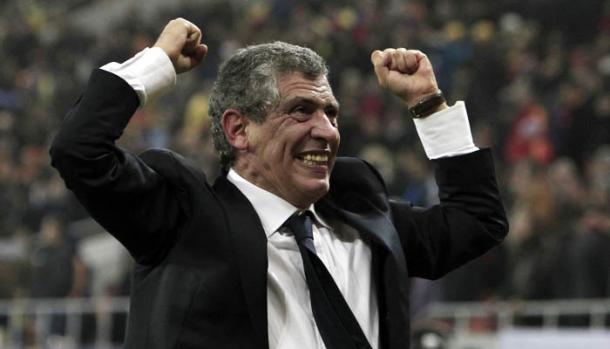 Furthermore, due to Ronaldo's early exit in the final, Guerreiro was able to show off his ability to take set pieces. The free kick from just outside the penalty area against France only struck the bar, but it showed off the wider assets he brings with his game.
To add, corners were another recourse in which he provided service to his national team. Whipping it in from the left side while João Moutinho occupied the right side.
Schmelzer or Guerreiro?
One of the biggest questions that Guerreiro's Euro 2016 success has prompted, is what this could mean for Dortmund's infamous left back Marcel Schmelzer. Comparing the two, there isn't much to separate in terms of playstyle, Schmelzer is a much more conventional left back who prioritises defensive stability over going forward, yet takes opportunities to go forward and deliver balls into the box.
Whereas, Guerreiro sacrifices the defensive stability at times to create a more explosive form of attack for his team, staying forward at whatever opportunity to potentially grab a goal. Resulting in the defensive line becoming open to counters unless cover from central players is made.
An advantage that Guerreiro definitely does have over Schemlzer however is pace. Unfortunately, Schmelzer wasn't gifted with natural speed on the ball which is why he plays slightly more conventionally. Therefore, when pace is needed, I can see Guerreiro being the favoured choice at left-back.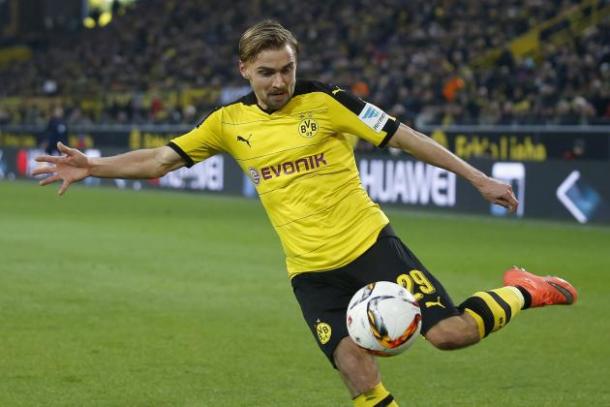 It's not impossible that Thomas Tuchel will start both, with Guerreiro taking a more offensive lead on the left side and having Schmelzer play just behind him. Thus also giving Reus freedom to roam the edges of the box and offer a route inside. If this is the case, it will allow Tuchel to avoid making an undoubtedly tough decision in dropping one of the two left sided players.
From this one thing is very clear, which is that Guerreiro will provide Dortmund with something newly unique on the left next season. If the Euro 2016 campaign is any sort of indicator, Guerreiro will be a great option for when an aggressive line is required, or when pace is lacking.
Whether or not he will be able to take over from Marcel Schmelzer in defence straight away is another question simply due to experience. However, a steady nurturing of his game at the Signal Iduna Park will undoubtedly lead to a progression in his abilities and potential, for which the skies the limit.