The infamous second season syndrome that often plagues sides that have survived their first year in a higher division, is what Arminia Bielefeld will be looking to avoid as they head into their second season back in the 2. Bundesliga. In a summer that has also brought plenty of personnel changes in North Rhine Westphalia, including some at the highest echelons at the club, die Arminen will prove a club to look out for in the campaign ahead.
After the heartache of the cruel last minute relegation in the relegation playoff in 2014 at the hands of SV Darmstadt 98, and the trials and tribulations that followed in the 2014/15 3. Liga season, Arminia returned to the 2. Bundesliga last campaign. With Norbert Meier's stifling, frustrating style the historic club were easily guided to safety; but the real challenge shall come this season in what proves to be a new era at the Bielefelder Alm.
The definition of solid, if unspectacular
Bielefeld very nearly had the record that would have been most pleasing to those who love numbers. A record that read 8-12-8, in terms of wins, draws and loses, was blemished by only a -1 goal difference; otherwise, Bielefeld could have been: 8-12-8, 39-39, 0 and 42 points. So close to the most satisfying season summary possible.
It may seem silly to mention this, but the fact that they were so straight across the board summed up their return to the second tier. Unlike MSV Duisburg, who were erratic as could be imagined, calm and consistency helped see Bielefeld finish comfortably in mid-table and just seven points behind 1. FC Union Berlin in sixth.
After 18 games, a little over half way through the season, the club had managed to draw a staggering 12 of their games. Obviously, it meant that the second half of the campaign was slightly more topsy-turvy, but the base built above those sides struggling to get any points on the board meant they were able to have a bad spell.
More of the same
Rüdiger Rehm will be hoping to continue to slowly build upon the good work done by Meier, as he has his first crack at 2. Bundesliga management. All he could ask for to start is a season like the one just past, as stability could be one of the most important factors in a division that genuinely seems too close to call this year.
Perhaps turning some of those draws into wins could be the most realistic target for Bielefeld, as they aim to continue progressing up the table. It may be cliche, but they are a club putting all the building blocks very slowly into the correct place and giving them time to settle. There is no rush, just patience and a willingness to let things happen.
So, what would represent an improvement or a goal? Without Meier at the helm and Rehm only having a few friendlies under his belt, it is hard to say. However, the young, ambitious coach will want to make a big impression from the get-go and show everyone that Bielefeld mean business this season.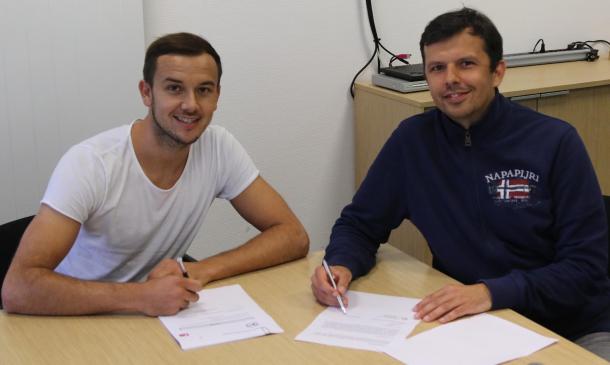 Prietl, Hartherz and Holota all in
With their relative strength coming in central midfield, it is interesting to see that Norbert Meier opted to bring in two central players during his time at the club this window. Thomasz Holota has been a virtual ever-present in the last two Ekstraklasa seasons for Slask Wroclaw, and even managed four goals in the previous campaign.
His potential midfield partner is Manuel Prietl, signed from SV Mattersburg also on a free transfer. He, like his new team-mate, also made 34 appearances last term. With a new manager now at the helm, it will be interesting to see whether or not both players are given the roles they were promised by Meier and co.
The final arrival is that of Florian Hartherz, someone that most will be familiar with. He was a regular at left-back for SC Paderborn 07 last year, as they suffered a second successive relegation. However, Hartherz's potential from his Werder Bremen days means he is still worth the risk and this could prove very good business by Bielefeld.
No major departures leaves a similar squad to last year
It's as you were for Bielefeld's line-up. There should be no great changes to the starting team, aside from the new arrivals possibly slotting in. Koen van der Biezen, Felix Burmeister, Peer Kluge and Bjorn Jopek were the notable names to depart, but they played little part last season and their departures will have little effect on the side.
Given the success that Manuel Junglas and Tom Schütz have enjoyed at the heart of Bielefeld's midfield, it is hard to see where Prietl and Holota will fit in. It would be a big call from Rehm to drop either midfielder, especially given their contributions over the last few years. The same can be said of Sebastian Schuppan and Hartherz.
Unlike most teams, who have largely undergone major change in one part of the pitch, it may well be the same eleven that took to the pitch against the majority of teams last season. With the stability that provides, on top of last year's adjustment, this could be a major positive for the club.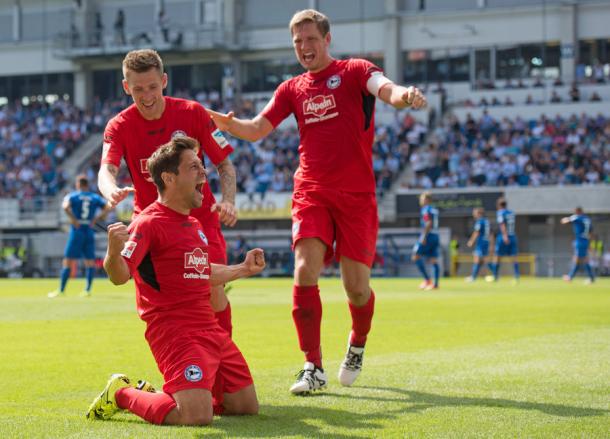 Pre-season form
The opening two friendlies couldn't have gone much better from a Bielefeld point of view, with 39 goals going in. Those were routine wins, and that continued with yet another derby win against VfB Fichte Bielefeld. 1. FK Pribram were next, and were also beaten by Rehm's men.
Caykur Rizespor put up a decent test for Bielefeld but were downed by Voglsammer and Rodriguez. Unfortunately, however, 1. FC Köln proved just too much as the Billy Goats edged out a 2-3 win. Rodriguez was back in form the next game, and his brace earned a 2-1 result in favour of DSC over SC Verl.
Pre-season results in full
BSC Blasheim 0-22 DSC Arminia Bielefeld: Prietl (2'), Klos (4', 43'), Nöthe (7', 17', 20', 40'), Voglsammer (22', 34'), Junglas (24'), Görlitz (26'), Ulm (53', 72'), Staude (54', 86'), Hemlein (58'), Brinkmann (61', 66', 70', 75', 84'), Hornig (78').
SpVgg Oelde 0-17 DSC Arminia Bielefeld: Schuppan (8'), Hemlein (25'), Brinkmann (29'), Ulm (32'), Staude (40'), Junglas (52'), Voglsammer (55'. 66', 69', 86'), Klos (59', 66', 71', 75', 90') Görlitz (67'), Dick (81'), Nöthe (87').
VfB Fichte Bielefeld 1-7 DSC Arminia Bielefeld: Bachmann (38') - Lang (4', 20'), Behrendt (22'), Junglas (35'), Hemlein (50'), Klos (69'), Staude (90').
DSC Arminia Bielefeld 4-0 1. FK Pribram: Voglsammer (9'), Prietl (28'), Klos (50' PEN), Hemlein (81').
DSC Arminia Bielefeld 2-0 Caykur Rizespor: Voglsammer (63'), Rodriguez (87').
DSC Arminia Bielefeld 2-3 1. FC Köln: Klos (12' PEN), Staude (58') - Modeste (19', 30'), Risse (86').
SC Verl 1-2 DSC Arminia Bielefeld: Rodriguez (26', 57') - Maier (75').
DSC Arminia Bielefeld - Olympique Marseille: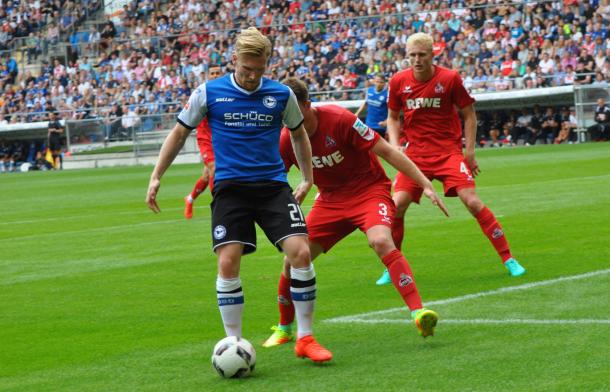 Klos and Nöthe will be key once more
Questions were asked of Fabian Klos - much like the were of Bielefeld - as to whether or not they could make a successful step up to the second tier. He had done it before, netting nine times and notching up five assists, but the team could not. This time, as captain, it all came together. Klos was involved in over 50% of Bielefeld's goals last term.
The skipper's presence and power up front are a match for any defender in the second tier and the importance of his goals can not be underestimated in the side. However, he did find a partner late in the season, as Christopher Nöthe chipped in with a useful seven goals and six assists.
The former FC St. Pauli frontman seemed to really hit his stride later in the year, and showed the sort of form that helped him fire SpVgg Greuther Fürth into the Bundesliga. Both will be vital to maintaining a similar level of performance to that of their previous campaign, and avoiding that dreaded second season syndrome.
Rehm ready to make the step up
There is little doubt that Rüdiger Rehm is one of Germany's most promising coaches, though most will still not have heard of him. Rehm took Sonnenhof Großaspach to the 3. Liga before taking a break. However, he quickly returned just a few months later to save them from relegation and maintain their third-tier status.
The 37-year-old had them right in the promotion mix last season until they fell away when the speculation regarding Rehm and the 1. FC Kaiserslautern job began. Despite finishing seventh, they were just two points behind 1. FC Magdeburg in fourth. His development of a fairly limited squad caught many eyes around the top two divisions.
As a replacement for Meier and his 4-4-2 system, Rehm opts for something almost identical and there will be no great changes to the tactics in Bielefeld this season.