In a spectacular, controversial turn of events, Mario Götze will return to former club Borussia Dortmund after three seasons at Bayern Munich, but not everyone may be content with the deal — be it his past or how he'll fit into the squad.
Bitter welcoming
For a good many years now, the Westfalenstadion has long been known as a fearsome place to travel to, not just to come away with a result, but also to deal with the raucous aura of the home fans.
The latter was the personal case for Götze when he made the daunting return to his old stamping ground in the season's first 'der Klassiker'. As expected, the event was rife with heated anticipation and the Dortmund fans let their feelings be known for even those in Gelsenkirchen to hear. Such a disruption was the booing, the youngster opted to warm up in the players' tunnel, at one point, to evade the deafening slurs.
That is just the tip of the cold, hostile iceberg, however. Football fans have long memories and the BVB faithful — particularly those in the Yellow Wall — continued to haunt their former star player for the following years. After yet another disappointing season with Bayern, rumours began to circulate over a permanent return to his old club via club CEO Hans-Joacim Watzke. This didn't take too kindly with some in the Südtribüne as — in the win over Werder Bremen — tensions reached boiling point and a rather unsavoury banner read "Milan or Madrid — just not Dortmund! P*ss off, Götze!"
As a backdrop, it is important to understand the Swabian started life at Dortmund at the age of just eight-years-old and spent a further twelve years in the Ruhr region rocketing through the academy ranks. On the back of hardship of near relegation and financial worries, Götze helped the club return to prominence as one of Germany's and Europe's best teams; winning two Bundesliga titles and a DFB-Pokal. Subsequently in 2013, the wunderkind ripped out the hearts of all BVB fans as it was announced he had signed a contract to join the Bavarians before the unsuccessful Champions League final, thus deepening the wound.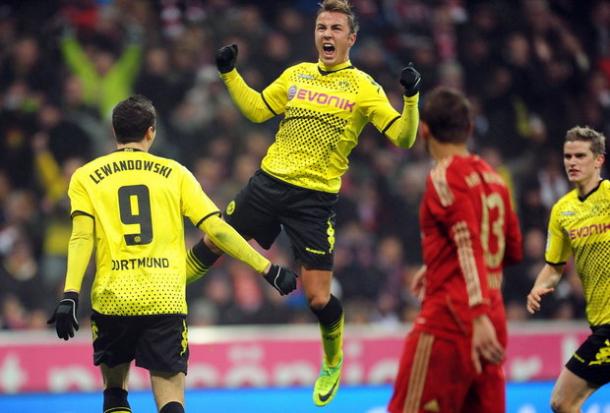 Unsurprisingly, Götze has not been the only player to be jeered by those in the Signal Iduna park. Wantaway Mats Hummels was also targeted by Dortmund fans to an extent the defender went off during training before the emphatic win over Wolfsburg. On top of this the defender was whistled at when in possession and became the victim of yet another striking banner.
Götze at BVB 2.0
As hard as it may be to believe, not all Dortmund fans are strongly opposed to the transfer. Many, rightfully, see the deal as one of success, in a sporting aspect, to replace the departures of İlkay Gündoğan and Henrikh Mkhitaryan to both Manchester clubs.
Undeniably, Götze is still a special, generational talent whose abilities are still evident to see. As such, manager Thomas Tuchel will be inclined to start him in the attacking midfielder role, in-between Ousmane Dembélé / Emre Mor and, of course, familiar friend Marco Reus.
To play in the number ten role would mean someone would have to be dropped and this comes in the form of Shinji Kagawa, who, reportedly, hasn't fully convinced Tuchel in the ex-Mainzer's first season. There is the worry, though, that, after the evident returns of the Japanese international and Nuri Şahin, Götze will fail to show the reflection of his old-self that saw him win the coveted Golden Boy award in 2011.
Despite burning many himself, there's the plan from the club's hierarchy that Götze may help build a bridge to stop Bayern from winning their fifth consecutive Bundesliga title. Though undoubtedly a tough challenge for those in management, there is comfort in the fact Tuchel has a reputation for getting the very best out of — or at least improving — players. For example, the season of last, which saw die Schwarzgelben reclaim their spot in the pinnacle of club football, stood out for many players as performances from the likes of new signings Julian Weigl and Gonzalo Castro as well as top scorer Pierre-Ememrick Aubameyang peaked to an unprecedented level. However, the Memmingen-born star has recently been ravaged with injuries during his time playing under Pep Guardiola and there is the further problem of a questionable attitude.
In an early act of repentance, Götze seems intent on getting back to his best: "I can understand the fact that many fans were unable to understand my decision. Nowadays I wouldn't make the same choice again! If I am now to return to my hometown club, then I want to try to win everyone over – especially those who do not welcome me back with open arms – with my performances. My objective is to get back to playing my best football. For all of us, the club and the BVB fans."
Though deeply hated, it's clear Götze still has an admirable amount of respect for his new club — as evidenced by his decision to not celebrate his goal in the dreaded return. If he can stand up to the torrents of boos that await him, then it's very possible he'll earn some back, too.