It's been change at the top for Karlsruher SC during the summer, as Tomas Oral replaced Markus Kauczinski as the club's head coach.
The 2. Bundesliga outfit will be looking to work their way back up the table to within touching distance of a promotion that was snatched from their feet against HSV.
There are doubts over whether or not they can cope with the loss of several key players, in what should prove to be an intriguing season.
An odd final season for Kauczinski
After their previous campaign where they came literally within seconds of clinching a Bundesliga berth, big things were expected of KSC. However, the loss of Reinhold Yabo and Rouwen Hennings hit the side hard. After 10 games, they had just nine points and were slumped down in 14th; a far from ideal start to the season.
Despite the disappointment of being ruled out of the promotion race early on, the team regrouped brilliantly. Only a run of three straight defeats in the run up to the Winter Break marked any real run of concern after that, as they steadily climbed the table to finish seventh. It wasn't pretty, but Kauczinski got the job done.
The team deserve credit for managing to stop the rot and to turn things around, but it still left a feeling of 'what could have been' if not for the horrendous run at the start. Their boss could still bow out with his head held high, and not one at the club could begrudge him after the superb job he has done at the helm.
Oral keen to kickstart potential promotion charge
Now with Oral at the head of the team, he'll be hoping to maintain as much continuity as possible from the Kauczinski era. The former FSV Frankfurt man has been given plenty of time to prepare after he was relieved of his duties mid-way through 2016. That does mean that he has been able to shape the squad how he wants.
Of course this would lead many to believe he should be able to hit the ground running, and that could well be the case. A good start could prove the difference this year with such a tight promotion picture, and both KSC and Oral will be desperate to do just that after putting their fans through the mill in the opening 10 matches last term.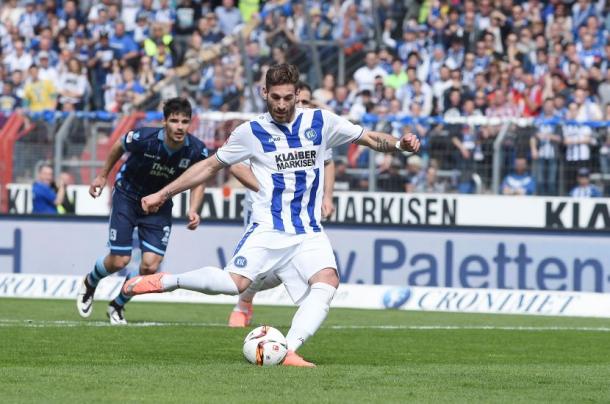 Can Karlsruhe push on with just four fresh faces?
It's been a very quiet summer at the Wildparkstadion, with only a handful of players arriving. One of those was a familiar face, with Dimitrios Diamantakos signing a permanent deal. Arguably the best bit of business this summer was to tie down the promising Greek forward, who was their topscorer (8) last season; there should be more to come.
The big money deal to take Franck Kom to Karlsruhe was something that very few, if any, people saw coming. The defensive midfielder is a Cameroon international and with the loss of two key central players, the former Etoile Sportive du Sahel man could be key to their success this season. A key figure while with ESS, he will be a leader for KSC.
From a domestic point of view, the big deal involved the capture of Moritz Stoppelkamp from SC Paderborn 07 on a free transfer. The midfielder is a top quality player at this level and the move left other clubs wondering how they had missed out. Free-kicks, crossing and ball striking ability make his technical game a huge addition to the club.
The final high-profile signing came in the form of Jordi Figueras, which filled the hole left at centre-back. The Spaniard is still highly valued and joins on a free transfer from Eskisehirspor. At 29, there is still plenty of time for Figueras to become a key player at KSC and take them to the heights reached in 2014-15.
David Kinsombi and Tim Grupp have both returned from loans, with the former set to play a role within the first-team this season. There were also several youngsters promoted to the pros. Tim Fahrenholz, Valentino Vujinovic, Niklas Hoffmann and Pierre Fassnacht will all be in and around the squad for the coming campaign.
Plenty of talent and experience departs
The vast majority of the division saw their out-goings filled with youth players, but this was not the case for KSC. Several first-team members that had filled important positions last year departed, with the only less than substantial farewell coming in the shape of Mohamed Gouaida returning to Hamburger SV after a season-long loan spell.
Another deal that may have been missed was the permanent departure of Pascal Köpke to Erzgebirge Aue. The young, talented striker never returned from his loan with Aue and will now be hoping to show Karlsruhe what they're missing. His former club did, however, manage to earn around €500k for his services.
Sascha Traut left on a free for Würzburger Kickers, and the same could be said of Daniel Gordon (SV Sandhausen), Dimitrij Nazarov (Erzgebirge Aue) and Dominic Peitz (Holstein Kiel). Both Gordon and Peitz will be big misses, with the pair having made the KSC starting line-up their home over the past few years.
Somewhat ironically, even though one deal had to go through another club, Karlsruhe lost both Manuel Gulde and - eventually - Jonas Meffert to rivals, SC Freiburg. Meffert was bought back by Bayer Leverkusen before heading for Freiburg, while Gulde was a direct transfer. Both will be massive losses from the spine, regardless.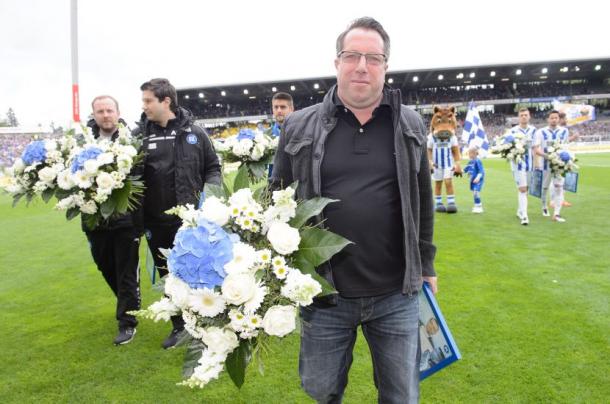 Positive performances in pre-season
Karlsruhe are one of the teams to play the fewest amount of friendlies in the run up to the new season, with most of the other 2. Bundesliga clubs nearing 10 pre-season fixtures. However, the six ties that KSC were involved in provided ample test and plenty of positives for Oral, who has hit the ground running in non-competitive play.
The form of Stoppelkamp, Erwin Hoffer and Diamantakos is extremely promising, and it looks like the defensive departures haven't effected the team too much. Three confident wins over lower league opposition was followed up by a defeat to West Ham, but they quickly bounced back against Başakşehir.
Pre-season results in full
1. FC Bruchsal 0-5 Karlsruher SC: Hoffer (15', 30'), Stoppelkamp (39'), Valentini (54'), Mazon (88').
TuS Mingolsheim 0-7 Karlsruher SC: Valentini (16'), Diamantakos (19'), Hoffer (24', 41', 45'), Stoppelkamp (49'), Vujinovic (86').
Freiberg 2-9 Karlsruher SC: Schimmel (37'), Deutscher (87'); Prömel (16'), Diamantakos (23'), Hoffer (48', 80', 82'), Krebs (53'), Sallahi (64'), Valentini (70'), Vujinovic (84').
Karlsruher SC 0-3 West Ham United: Carroll (9'), Valencia (18'), Fletcher (81').
Karlsruher SC 1-0 İstanbul Başakşehir: Stoppelkamp (36').
Karlsruher SC - Derby County: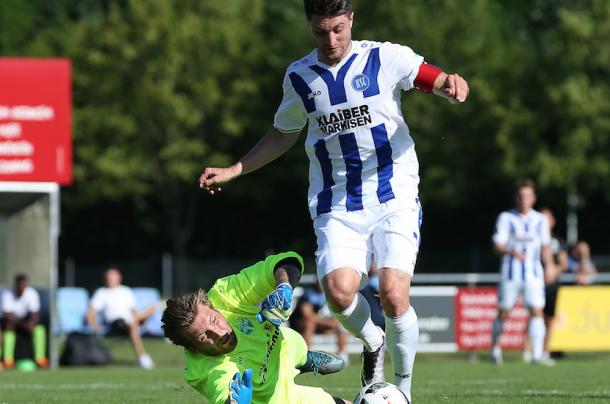 Pressure mounts on midfield stars
After a really lacklustre season last term, Manuel Torres, Hiroki Yamada and co. will be desperate to try and make up for such a slide in personal form. The numbers were not terrible, as Torres contributed five goals and six assists with Yamada notching up three and four, respectively. However, it was usually on a fairly inconsistent basis.
The arrival of Stoppelkamp should boost that production massively and aso take some of the pressure off, but it's not just in the attacking midfield areas where there will be change. Meffert's departure, as well as that of Peitz, means that Kom is going to be asked to get up to standard almost immediately and fill the void left by both.
With Grischa Prömel away on Olympic duty with Germany for the first three games of the season, it could be the chance for Marvin Mehlem to stake a claim as Gaetan Krebs' back-up. The teenager impressed during his under-19 Euro cameos, including a goal in the World Cup play-off, and will be desperate to show his worth in the first-team.
Can Oral live up to Kauczinski's consistency?
It's hard to say whether or not Oral will be able to replicate the results Karlsruhe had under Kauczinski, especially given the level of performance that the latter managed to grind out on a regular basis. The extended build-up will definitely help, however, as well as his eye being cast over any potential signings.
It's an interesting and perhaps exciting time to take over at the club, given the regulars that have departed Oral now has the chance to set-up the team how he wants going forward. There is the chance to create his own era after Kauczinski, but can he thrive under that pressure? Only time will tell.