With the 2. Bundesliga restart fast approaching, the league's most active club - in terms of transfers - is still busy doing deals ahead of the kick-off this weekend.
SpVgg Greuther Fürth are that team, and have been working tirelessly this summer to give Stefan Ruthenbeck the best possible squad for the new season.
After a topsy-turvy campaign last year, the Shamrocks will be keen to iron out any issues just in time to take on 1860 Munich.
Fits and starts leaves Fürth middle of the pack
On only four occassions did Greuther Fürth remain in the same position on consecutive matchdays, making their season the definition of the proverbial rollercoaster ride. It was certainly trying and testing at points, though the odd win always seemed to lift spirits at just the right time to avoid crisis mode setting in amongst the fans.
Things were looking bright come matchday 10, with the Shamrocks sitting pretty in fourth and about to take on a VfL Bochum side that had come unstuck after their incredible start. However that 5-0 defeat and a 5-2 loss to SC Freiburg the week after sent the team spiralling into a run of really mixed and varied results.
It all got back on track in the spring and just two losses in 10 steadied the ship once more. As so many of these previews have said before, it was consistency that allowed the top three to finish so far ahead of everyone else. Is this the aim for Fürth next year then? To slowly improve? It will be difficult given the make-up of the division, for sure.
Time to build towards the top six
After finishing ninth last term, cracking the top six seems to be the next logical aim in terms of working back towards promotion. There were positives and negatives in equal measure, but it's time to start eradicting the latter. Individual mistakes and profilgacy in front of goal were major issues last term, and cutting these out will be crucial.
After taking a while to adjust, Veton Berisha seems to have found his scoring boots and his continued that form into pre-season. It is the same case for Robert Zulj, with the playmaking pressure ramped up after three big-name departures this summer. After scoring 12 times last campaign, Sebastian Freis will be hoping for similar once more.
Defensively, there have also been a few players that are off to pastures new this summer. That opens up the chance for new players to shine, and puts more responsibility of Marcel Franke and co. This seems to have been fruitful through the friendlies, but whether or not they can do it in competitive play remains to be seen.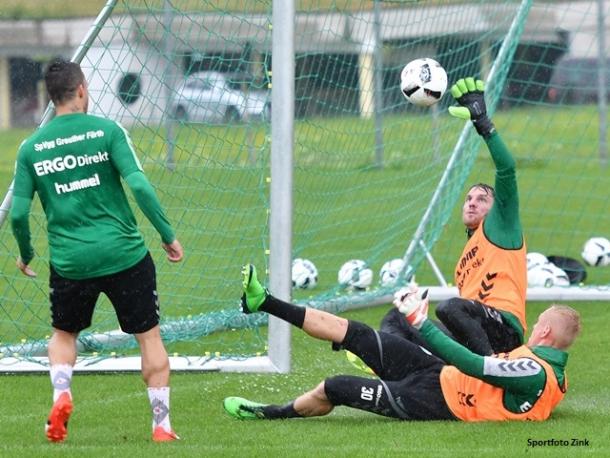 Stiepermann departs as Ruthenbeck starts afresh
It has been a big window for Fürth, especially in terms of the out-goings. Three of those players headed for Bochum, most notably Marco Stiepermann. The technically gifted winger left for close to €1m, but will leave a huge gap to fill. It doesn't help that potential replacements Johannes Wurtz and Tom Weilandt also headed for the Ruhr club.
The other big name departure saw Benedikt Röcker head for Brondby IF for a very small fee. He will be sorely missed at centre-back, and another defender left in the form of Stefan Thesker to FC Twente. After that, the other players to leave the club were nothing more than squad players, if that.
Tom Trybull (ADO den Haag), Zhi Gin Lam (Kitchee SC), Mark Flekken (MSV Duisburg), Dwayn Holter (Differdingen 03), Leopold Zingerle (1. FC Magdeburg) and Bastian Lerch (Jahn Regensburg) - what an incredible list - are also off to pastures new in what has been a huge clearout at the club.
Stefan Maderer (FSV Frankfurt) and Ronny Marcos (SV Ried) are in search of first-team minutes elsewhere, in a bid to have them firing fit come next season.
Plenty of new arrivals
While Bochum cherry-picked three of Fürth's attacking players, the Shamrocks nabbed both Sercan Sararer and Mathis Bolly from Fortuna Düsseldorf. The pair were free transfers and that has been a theme of Ruthenbeck's summer business, as they are yet to spend a penny.
Seemingly keen to keep to players that they faced last season, Lukas Gugganig (FSV Frankfurt) and Khaled Narey were both brought in. With so many 'keepers departing in the summer, it was necessary to fill the void, Sascha Burchert, Marius Funk and Balazs Megyeri - who looks set to be first-choice - all came in. The other new arrival was forward Serdar Dursun, who had spent a lengthy period on trial.
In some less notable deals, Stephan Schröck had returned from his loan in his homeland, only to have it extended to January, while Dominik Schad, Daniel Steininger and Benedikt Kirsch have all been promoted into the first team. The latter trio could well be called up if there is an injury crisis, with cover thin in defence and midfield.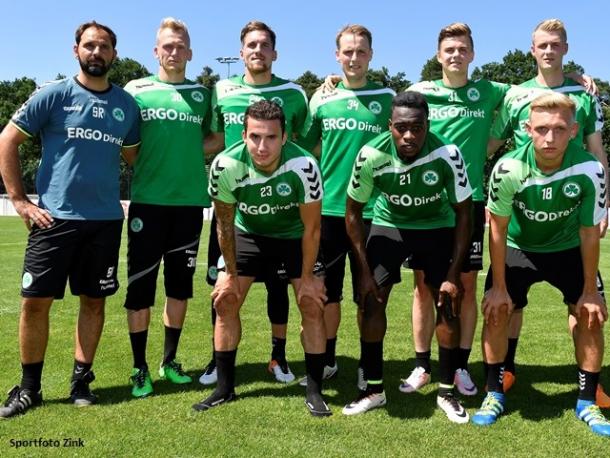 Plenty of games, plenty of positives
Aside from two narrow defeats, it was a very good set of results that came from Fürth's nine pre-season outings. They were one of the busier teams in the league and that should bode well for confidence, team morale and fitness heading into the new campaign. Perhaps one of the highlights, a goalscoring return for Ilir Azemi.
The losses to Paderborn and Stuttgart matter little in the grand scheme of things. The form of their strikers and attackers, particularly Veton Berisha, Robert Zulj and Ante Vukusic. Five clean sheets in the nine games also represents improvement on last year - even if against lower tier opposition - especially with some of the mishaps.
Greuther Fürth 3-0 1. FC Sand: Dursun (10'), Gjasula (28'), Franke (75').
V'bronn-Siegelsdorf 0-12 Greuther Fürth: Gjasula (6'), Vukusic (7', 45'), Tripic (28', 31') Berisha (43') Narey (47'), Steininger (67'), Azemi (70'), Dursun (77', 81'), Freis (90').
Greuther Fürth 3-0 VfR Aalen: Vukusic (48'), Gießelmann (58').
ASV Zirndorf 0-7 Greuther Fürth: Davies (25'), Steininger (26', 79'), Kirsch (64', 90'), Azemi (76'), Morina (82').
Greuther Fürth 2-3 SC Paderborn 07: Freis (36'), Zulj (64') - Schonlau (25'), Zolinski (57'), van der Biezen (73' PEN).
Greuther Fürth 2-2 SG Sonnenhof Großaspach: Gugganig (12'), Berisha (59') - Landeka (20'), Leist (55').
Greuther Fürth 1-0 Caykur Rizespor: Zulj (67' PEN).
Greuther Fürth 2-2 Akhisar Belediyespor: Zulj (39' PEN), Vukusic (78') - Uarte (52'), Ayik (68').
VfB Stuttgart 3-1 SpVgg Greuther Fürth: Gießelmann (67' OG), Baumgartl (69'), Gentner (80') - Berisha (37').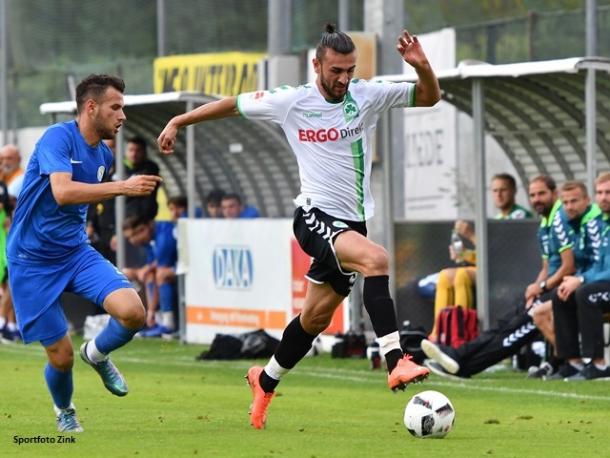 Who needs to perform to ensure success this season?
Starting from the back and working forward, Lukas Gugganig will most definitely be under pressure from the start to fill the void left by Benedikt Röcker. Having come to Germany and been immediately relegated with FSV Frankfurt, the Austrian will be out to prove a point and perhaps replace Marco Caligiuri or Marcel Franke's in defence.
If Gugganig is expected to hit the ground running, then Andreas Hofmann and Jurgen Gjasula simply must. Aside from young Kirsch, who has just been promoted into the senior squad, these two are the only central midfielders at the club. Given Gjasula's temperment, he may have to tone it down a notch to ensure his side aren't left in the lurch. 
The squad's star duo are both in attack, and big things looking to be coming from Veton Berisha and Robert Zulj. Both found their feet last season and should pair up to cause plenty of problems for opposition defences up and down the league. With Freis to boot, the Shamrocks' attack is most certainly the strongest part of the team.