Erzgebirge Aue are back in the 2. Bundesliga after just a season away. The team from the small mining town in Saxony were champions of East Germany three times during the 1950s, but they are one of the smallest clubs to have competed in the modern-day German second tier.
That said, they have a very good record from their two previous spells at this level, and even finished fifth when they last came up from the 3. Liga in 2010-11. After relegation in 2015, they quickly recovered to seal promotion straight back up, and will now be looking to secure their place at this level once more.
Here we take a look at what to expect from the Violas this season, and whether they can achieve their goal, which is quite simply to stay up.
Bouncebackability
Their five-year stay in the 2. Bundesliga was ended on the final day of the 2014-15 season following a draw at Heidenheim. Coincidentally, they will start the new season with the very same fixture on the 7th August.
Bulgarian manager Pavel Dotchev was appointed in the summer of 2015, as the successor to Tomislav Stipić. And under his leadership they quickly bounced back, eventually finishing in the second promotion spot in the 3. Liga behind champions Dynamo Dresden.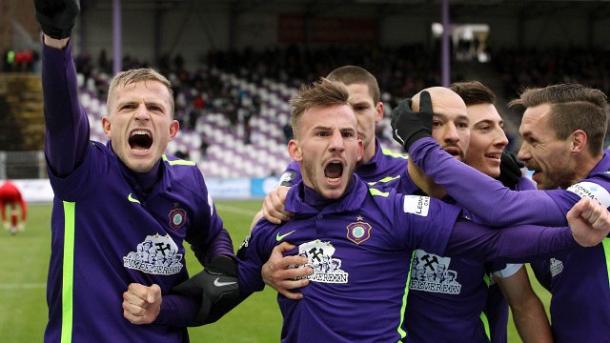 Despite a five-match winless streak in September and October, they went into the winter break in third-place, but it was a strong second half of the season, when they lost only twice, that ensured their immediate return to the second tier. They secured promotion with a game to spare following a victory at Fortuna Köln.
The 21 goals conceded by their defence was the best in the division, with that and a strong togetherness being they core strengths, along with a tidy possession-based game. Of some concern though may be their goal-scoring record, with only five teams in the 3. Liga last season scoring less than Aue's 42.
It was a good season in the cups too, with upsets over Greuther Fürth and Eintracht Frankfurt in the DFB-Pokal, and victory over local rivals FSV Zwickau in the Sachsenpokal (Saxony Cup) final.
A couple of familiar new faces
The core of last season's squad remains in place, with winger Mike Könnecke the only regular from the last campaign to leave, joining Nils Miatke at 3. Liga newcomers Zwickau. As it stands though, nine new faces have been brought in to strengthen the squad.
Pascal Köpke joins permanently from Karlsruher SC on a five-year deal, costing the club around €500,000. After making just four substitute appearances for Karlsruhe after joining from SpVgg Unterhaching, he was loaned out to Aue in January and made a big impression.
After the team's poor return before Christmas, he provided the goals their promotion charge needed, scoring ten in fourteen appearances to propel and keep them into the top two. And in case you recognise the name, the 20-year-old is indeed the son of former Germany keeper Andreas.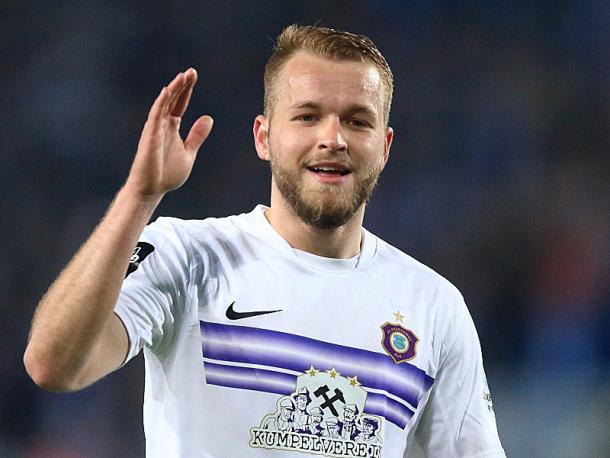 Central midfielder Clemens Fandrich returns after a loan spell at Aue, from RB Leipzig, in the back end of the relegation campaign in 2015. It follows an indifferent season in the Swiss Super League with FC Luzern. He'll be hoping to provide more than the two goals he scored in his previous spell at the club.
Bending the rules
Up front, as well as Köpke, they have captured Dimitrij Nazarov from Karlsruhe, although his two goals from 26 games last season don't promise much, whilst another new forward, Martin Toshev, scored ten goals in the Bulgarian top flight for OFP Pirin last year.
Mirnes Pepić, a promising young midfielder, joins from relegated SC Paderborn, whilst they have also snapped up three further players to make the step up from the 3. Liga with them – Sören Bertram, Fabio Kaufmann and Fabian Kalig.
Bertram, a winger, joins from Hallescher FC, where he contributed nine goals and eight assists in the last campaign, although due to a cruciate ligament injury he is not expected to appear for his new club until October.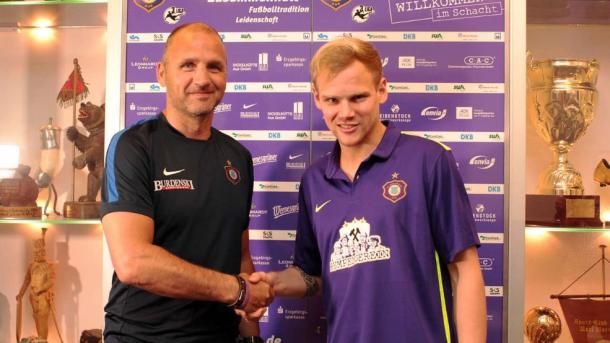 Midfielder Kaufmann scored one goal and created four more for Energie Cottbus, the former Bundesliga side who have now been relegated to the Regionalliga, last season. Centre-back Kalig had been skipper of FSV Mainz 05 II, and played all but 180 minutes for them last season.
Goalkeeper Maik Ebersbach has also arrived, coming from VfB Auerbach, but is unlikely to threaten first choice keeper Martin Männel.
They've also signed up kit man Tommy Käßemodel as a player. However, according to Bild, he is unlikely to play and has only been registered in order to get around a rule requiring at least four players to have been at the club for at least three years, with club president Helge Leonhardt citing the club's failure to fully restructure its youth academy for the lack of home-grown players.
Strong defensive foundations
Köpke finished as the side's top scorer last season, and how he carries that form into the second tier will be vital to the chances of beating the drop. However as well as their other attacking options, the midfield trio of Mario Kvesic, Nicky Adler and Simon Skarlatidis contributed 14 between them last season, whilst even defender Steve Breitkreuz contributed five, so we won't be alone in the hunt for goals.
Meanwhile captain Männel, who has been with the club since 2008, was another key member of the promotion-winning side, conceding just 21 goals and keeping an impressive 23 clean sheets. And even in relegation the previous year, he still had eight shutouts, and also scored himself in the final game at Heidenheim!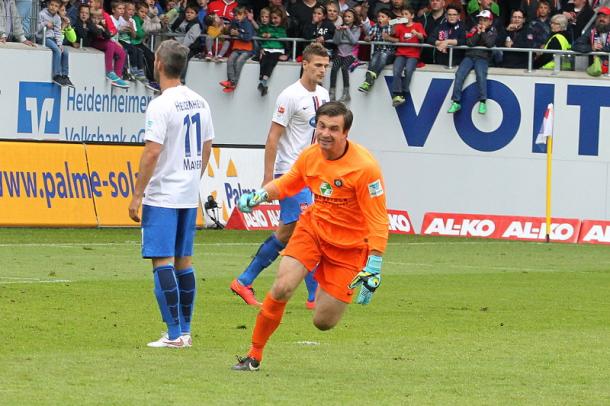 Of course Männel isn't the only one responsible for the strong defensive record. Centre-backs Breitkreuz and Adam Sušac were rocks for the club at the back, appearing together for the majority of the campaign last season, and ranking as two of the best 3. Liga players in Kicker's player rankings.
With the exception of Männel and back-up keeper Mario Seidel, none of the side were around when the club went down fifteen months ago, and whilst they have impressed in the 3. Liga, how to adapt in a much tougher league will be all important.
Stadionbau Aue
The summer has also seen big infrastructure changes, with the club's Sparkassen-Erzgebirgsstadion undergoing a major reconstruction. The work, which began during the course of the last season, is seeing the running track built over to convert the stadium into a purpose-built football arena.
The West Stand is complete and ready for the new season, whilst work continues elsewhere. The club has been sharing plenty of photos over the summer, with the stadium exterior already looking very purple!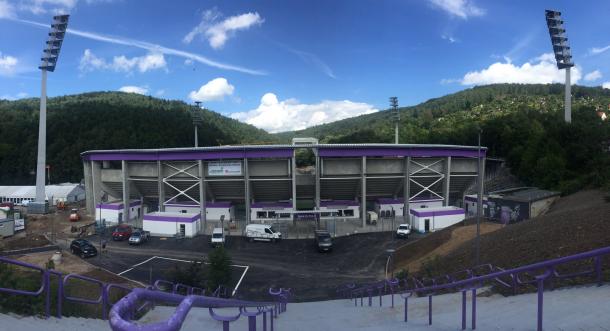 The conversion will see the capacity rise from 15,690 to 16,485. The stadium won't be completed until 2017, but the team will stay put, with a minimum capacity of 10,000 being maintained throughout the work to meet DFL requirements.
Promising pre-season form
Pre-season has brought about many of the usual processions that German clubs play, with wins of 15-0, 21-0 and, against VFC Reichenbach 96, a 31-0 victory. Nazarov got seven goals in that victory, Adler scored four, whilst Cebio Soukou, Kopke and Kvesic all completed hat-tricks. However they also lost to fourth-tier Rot-Weiss Essen.
Importantly though, they have shone when faced with tougher tests. They secured a 1-0 victory in a game against Liverpool's under-21s, with Christian Tiffert scoring, and the 3-3 draw against 2. Bundesliga rivals Hannover 96, with goals from Soukou, Kvesic and Köpke, shows they should be able to compete with the best in the division this season.
They finish their preparations for the first game against Heidenheim in their new-look stadium against SV Waldhof Mannheim on the 30th July.
Confidence for the season ahead
The aim for the new season is quite simple – avoid relegation. It will be a tough and, as ever, unpredictable league next season, with even big guns like 1860 Munich and Fortuna Düsseldorf forced to battle relegation last season.
Of last season's promoted sides, MSV Duisburg went straight back down, whilst Arminia Bielefeld kept themselves reasonably clear of danger with a low-risk strategy, losing just eight games but drawing more than half.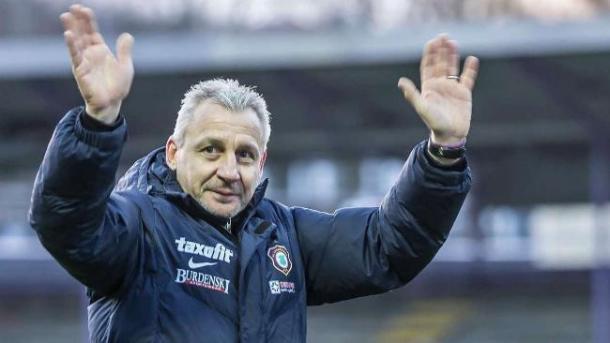 "We will have a hard time, I am aware," admits Dotchev, "I am not naïve." However he is not concerned that his side are one of the favourites to go done. "Sometimes football turns out differently to how you expect," he points out.
And he is confident his side can rise to the challenge – he believes the side will retain its level of promotion from last season, and will be "even stronger in the second year" of his reign.
Leonhardt is confident the team will avoid a repeat of the 2014-15 campaign. "The team agrees," he explains. "All are relaxed, but absolutely focused." He has also praised the spirit shown by the side, and that the team are all "friends".
History is also on their side. On the two previous occasions they were promoted into the league they stayed up, finishing eighth in 2003-04, and fifth in 2010-11, eventually sticking around for five seasons each.
And Männel believes they can repeat the success of that latter campaign. He says the team the strength of the team is "very similar" to six years ago, and that they have been allowed to "develop great [team] cohesion."
Team cohesion will go a long way
There are no guarantees they will succeed. According to Kicker, they are going to be the shortest team in the league, and in what is a fierce league at times, that could be a disadvantage.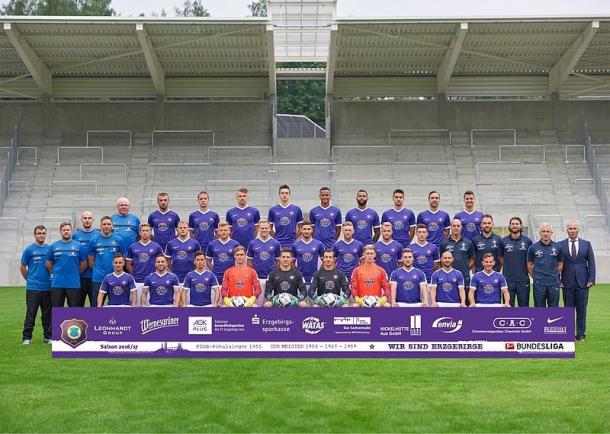 However history on their side, and team spirit can go a long way in modern football – the most obvious example for this being SV Darmstadt 98.
Whilst no-one is suggesting Aue will replicate their back-to-back promotions from the 3. Liga into the Bundesliga, there should be enough about them to avoid the mediocrity that can be the downfall of any team in this league.
Should all the strengths of the promotion-winning side come good for them again, and the likes of Köpke contribute plenty of goals, they should have little trouble staying in the division.
Quotes via Kicker and Bild.