These are interesting times for 1. FC Union Berlin. After seven consecutive years in the 2. Bundesliga, there are signs that they are making every attempt to make the final breakthrough and join the Bundesliga big boys for the first time in their history.
Last season saw them equal their highest-ever finish since the reunification of the country, matching the sixth-placed finished they achieved in their first campaign at this level back in the 2001-02.
And now they're thinking big, with former FC Schalke 04 coach Jens Keller taking the reins. But as the club moves on from a season of three managers, one of whom sadly passed away over the summer, can the much-maligned Keller make history with the side from East Berlin?
A strong season overshadowed
It turned out to be a quietly impressive season for Union Berlin. They managed to finish sixth in the final 2. Bundesliga table, despite getting through three managers over the course of the season.
Norbert Düwel was sacked after picking up just four points from the club's first five matches. Former Bayern Leverkusen coach Sascha Lewandowski came in and steadied the ship, before leaving for personal reasons.
The most gains were made though under his successor, André Hofschneider, who guided them into the top six and oversaw a record run of eight successive home wins. All this despite finding out in April he would be replaced by Keller.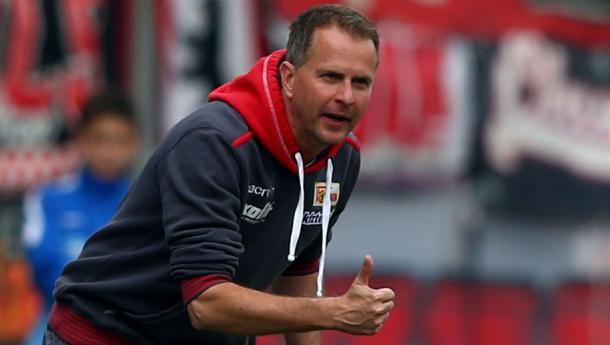 However the summer at the club has been overshadowed by the death of Lewandowski, who died in June at the age of just 44. It was news that shocked the whole of German football, and no doubt their passionate fans will want to pay tribute to him at the start of the season, even if he only spent six months in the capital.
However, as always, football has to move on. And so they will look to the future. With optimism too.
Bundesliga ambitions
The appointment of Lewandowski was a sign that the club had big ambitions, and that is further reiterated by the appointment of the former Schalke coach Keller for the start of the 2016-17 season.
It's fair to say the 45-year-old wasn't particularly loved during his time in Gelsenkirchen, despite leading them to fourth and third-placed finishes. After a slow start to the 2014-15 season, with another Champions League finish potentially at risk, he was gone, and not many were sorry to see him go.
He might not have been the big name Schalke fans truly wanted, but for Union to appoint a manager with such recent Champions League experience it is a massive statement of intent.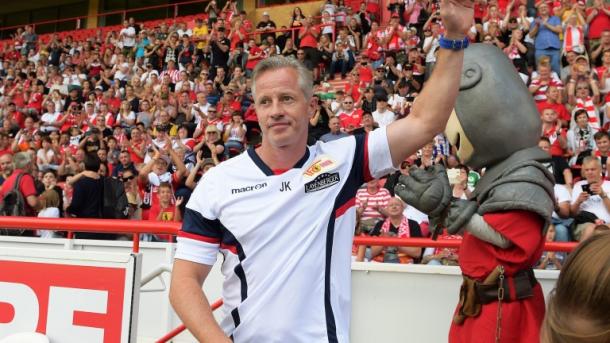 After he was announced as the new manager, sporting director Lutz Munak was quick to state that the club wanted to become one of "the top 20 in German football." This can clearly be interpreted as a desire for the club to reach the Bundesliga for the first ever time.
It will be a tough ask for them to pull it off this season. It is a highly competitive league, with two giants in VfB Stuttgart and Hannover 96 dropping down from the Bundesliga only adding to the competition.
Keller is simply focused on building on last season's performance. "In the following season we want to step up", he says. "Last season the team finished six. We want to improve on that." Meanwhile Felix Kroos, the club's new captain, has stated that reaching the top flight in the "next three years" is achievable.
Can Hosiner fill Wood's scoring boots?
The loss of last season's top scorer Bobby Wood to Hamburg makes things harder for them, especially has he contributed 17 goals last season. However he is only one of two notable departures, and the other, goalkeeper Daniel Haas, had been overtaken in the pecking order by Jakob Busk when the latter arrived from FC Copenhagen in January.
Like last season, much is expected of some of their new signings. The most direct replacement for Wood will be Philipp Hosiner, although the jury is out on what impact he will make.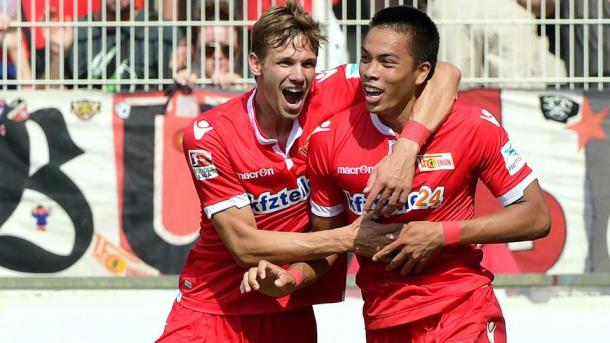 Since belting in the goals for Austria Vienna in a two-year spell there, the Austrian has had a tepid spell in France with Stade Rennes, whilst his loan move to the Bundesliga with 1. FC Köln last season proved no more productive. Both Union fans and Hosiner himself will hope for better from him.
With the club's existing forwards Sören Brandy, Steven Skrzybski and Collin Quaner contributing just seven goals between them last season, a concern has to be where their goals will come from.
They can't totally rely of a midfielder like Damir Kreilach, who was second-top scorer behind Wood with ten goals, but he will be a vital player for them again this season.
A more immediate impact can be expected from Kroos, brother of Toni, who returns to the club on a permanent deal following his impressive loan spell from Werder Bremen last season. He made a big impact in just 12 games, scoring twice but notching up six assists. And Keller has wasted no time in naming him as his skipper for the new season.
Solid foundations?
With Haas gone, promising keeper Daniel Mesenhöler joins from Köln to provide competition for Busk. However the 22-year-old Dane impressed after signing in January, keeping six clean sheets in 14 starts, and they club wasted no time in tying him up to a longer deal.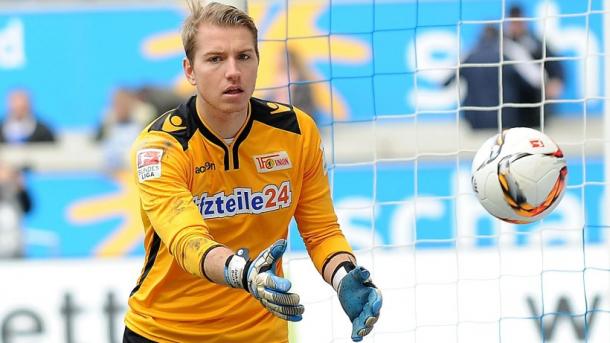 Although Keller may bring in an older hand to mentor the young pair, it should be a straight battle between them for the number one shirt. Sporting director Helmut Schulte is "absolutely convinced" about their abilities, and that the competition "will advance their development even further."
Mesenhöler has the actual number one shirt, but Keller has already suggested that Busk will keep his place. "Jacob certainly has a certain advantage," he says. " [He] had a good last half of the season for Union. That's a plus."
Although they had one of the worst defensive records in the league last, with 50 conceded, the defence should still take some credit for those clean sheets in the second half of the campaign.
It cannot be a coincidence that Roberto Punčec missed the 3-0 defeats to promoted pair SC Freiburg and RB Leipzig, whilst fellow centre-back Toni Leistner also missed that Leipzig game, and the late season 6-2 defeat to 1. FC Nürnberg.
The club has signed two more defenders for the new season, with Kristian Pedersen joining from Danish second-tier club HB Køge and Christopher Lenz arrives from Borussia Mönchengladbach II. The two will be in competition with Michael Parensen at left back, although neither come with the highest pedigree.
Work in progress
Pre-season started with a 1-0 over SV Victoria Seelow, before a 15-0 thrashing of SV Zehdenick, with Kenny Prince Redondo scoring five goals. On a pre-season tour of Austria, they secured an impressive win over Serie A side Udinese, with goals for Hosiner, Skrzybski and Stephan Fürstner in a 3-2 win, however they followed that up with a 3-1 defeat against a strong Watford side, Kreilach getting the goal for the Iron.
Back in Germany, they were held to a 1-1 draw by FC Energie Cottbus, who were relegated from the 3. Liga last season, and then beat FSV Union Fürstenwalde 3-0, with a double from Maximilian Thiel. They finished with an impressive 3-0 victory over Eredivisie side FC Utrecht. Kreilach, Skrzybski and Redondo were again amongst the goals.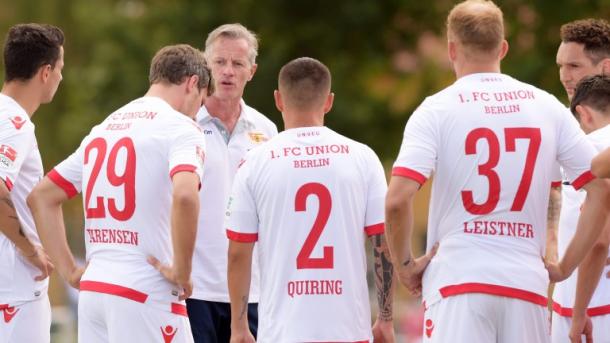 Despite a mixed set of results, Keller is happy with the progress the players have made over pre-season. "The team has taken on a lot and already implemented many things that we've asked of them," he has said.
Keller is looking to implement a 4-4-3 formation, with a similar philosophy to the one he had at Schalke. "It is absolutely clear that this cannot be the same level as a Champions League team," he admits. "But my idea of football is exactly the same as at Schalke."
It still a work in progress though. Keller still wants to add "one or two quality players" to the side before the start of the season, with a trip to VfL Bochum on the opening weekend.
Despite playing in the Cottbus game, both Kroos and vice-captain Benjamin Kessel are facing a battle to be fit that match. Raffael Korte is out long-term with a cruciate ligament injury, whilst Benjamin Köhler and Dennis Daube will not be ready to play the opening game either after injuries during pre-season.
The fans perspective
To get an idea about how the fans are feeling ahead of the new season, we spoke to David to see how he felt about the last campaign and the one to come.
He admits that the side got off to a "terrible start" last season, particularly the "embarrassing" 2-1 defeat to Viktoria Köln in the first round of the DFB-Pokal. He was pleased with the club's home form in the end, with just two defeats all season, but adds they "need to sort out the away performances" – they won just four times away from the Alte Försterei last season.
He describes the death of Lewandowski as "a desperately sad thing to happen." He thinks that it will have some impact on the club going into the season, "but given the length of time he was here I don't think it will have a lasting effect," he adds.
David is pleased the club have retained Kroos, saying "he is key in the centre of the park, much like his brother," and he's also hopeful that Hosiner can help replace the "fantastic" Wood up front. On Keller though, he's not sure. "He's got a good track record at youth level but I'm not so sure about his first-team management skills. I'll reserve judgement."
He doesn't think the club are quite good enough for promotion this season, despite many ("often outside the club, admittedly") describing them as dark horses. He's looking for three things – a good start to the season, a cup run with the chance of a big club visiting the Alte Försterei, and another top six finish.
The start of something special?
Of course the club do not start as favourites for promotion. That honour falls naturally to Stuttgart and Hannover. But as Keller admits, below them "five or six teams are at the same level," and Union are, he believes, one of those teams.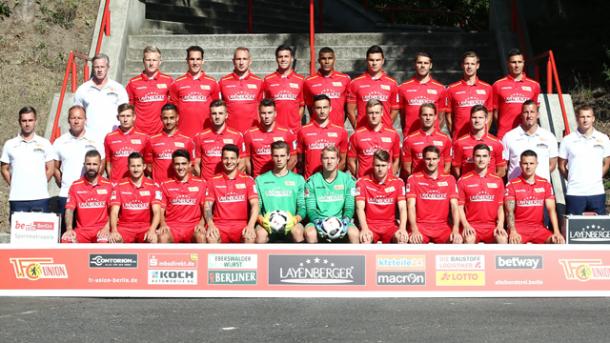 Whether this side is ready for that final push yet though seem doubtful. They have a good blend of youth and experience, but both attack and defence may need fine tuning over a period of time. Keller could well be the man to oversee this process, but until it's complete, he will always have his doubters.
Whilst the nuance of their new coach, plus their form at the back-end of last season, puts them in the frame to potential promotion dark horses this season, it looks more likely that Keller will need time to make his mark. Another mid-table finish looks the most likely outcome. They should at least be around sixth spot again come the end of the season.