Dynamo Dresden has always been a club that has flirted with relegation but since 2014, the East Germany side are finally doing things the right way, and it's down to former player, Ralf Minge.
The Director of Sport played his football in Dresden for 11 years, and so the former striker knows the ideology of the club – something that will be crucial following their return to the 2. Bundesliga.
There had been uproar when Dynamo Dresden fell to the 3. Liga, but now with a return to the second division, this well supported club finally have the chance to rectify their mistakes of the past.
Strength in depth, despite key departures
Dynamo Dresden have lost two players that were key protagonists in their promotion campaign.
Michael Hefele left the club for English side, Huddersfield, after spending two seasons at the heart of the Dresden defence, whilst free-scoring Thomas Eilers departed for Bundesliga club Werder Bremen.
When you take a leader out of a winning team, things can go bad.
However, Dynamo Dresden replaced Hefele with Florian Ballas – from FSV Frankfurt – who has 2. Bundesliga experience.
VAVEL.com spoke to Dynamo Dresden supporter Ludwig Uhlmann ahead of the coming season, on the loss of the two key players; the young squad; where they need to improve and how we can expect to see them set up this season.
"The loss of Eilers and Hefele will hit quite hard, but we have players to compensate.
"A player like Ballas – who has played second division football before – can replace Hefele, and he's more than capable.
"Hefele was a good player who developed massively during his two years. His move to Huddersfield was too early, but I think Ballas can replace him," said Uhlmann. "Ballas and Modica should fit well together, because they are two different types of defenders."
Eilers was someone who could score you goals, but now that the main goal threat has departed the club, the style of football that Dynamo Dresden play could become more free-flowing, whilst Marvin Stefaniak and Aias Aosman will become key components going forward.
"It sounds weird, but I think we'll be a better team without Eilers, as we can play in many different formations and tactical variations.
"I don't think there's just pressure on Stefaniak," said Uhlmann. "Aosman has a lot to prove too."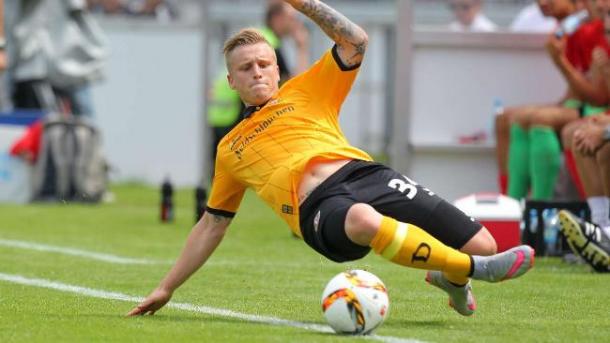 Dynamo Dresden also added Marvin Schwäbe to their squad to provide competition for Janis Blaswich – who was close to leaving the club.
"Schwabe is a great addition to the squad," said Uhlmann. "He's a very promising goalkeeper and he was the best keeper in the third division last season."
Despite promising additions to the squad, there's still some areas that need improving.
"We still need a right midfielder and a box-to-box player," said Uhlmann. "We need a lot more defensive players and people who are tactically aware on defending set-pieces, as this is where we struggled last season."
Whilst Ludwig Uhlmann remained confident of the upcoming campaign, he insisted that his club won't change their style of play too much, like others have predicted.
"We played really attacking football last season," added Ludwig. "Simple, but direct, which is sometimes the best way to play.
"We had a very strong mentality last season, which helped us secure some late goals to win points, and this is something we need to carry on in this season."
If one thing is for certain, then that is just how competitive second division football in Germany is.
You have VfB Stuttgart and Hannover 96 who were relegated from the top flight, whilst despite almost being relegated from the second division last season, 1860 Munich have recruited to a high standard, which could see them push into the top half of the table.
"Second division football is very competitive, but I am very positive of the season ahead.
"The home games will sell out," added Uhlmann. "With the experienced coach at the helm and young players with plenty of potential, I think we can finish between 10 and 14, whilst avoiding a relegation battle."
Pre-season fixtures
Ingolstadt 2-2 Dynamo Dresden
Dynamo Dresden 2-1 Everton
First five 2. Bundesliga games
Dynamo Dresden - Nürnburg
Union Berlin - Dynamo Dresden
Dynamo Dresden - St. Pauli
Hannover 96 - Dynamo Dresden
Dynamo Dresden - Erzgebirge Aue
Dynamo Dresden is a club steeped in tradition since its formation in 1953. Being one of the most supported clubs in East Germany, it can only be a matter of time before this iconic club is finally rewarded with a return to the Bundesliga. With no debt on their books and a Director of Sport who has the clubs best interest in his heart, Dynamo Dresden has the core to become the club it once was.