Most clubs look forward to the start of a new season with a heightened sense of anticipation, but for 1. FC Kaiserslautern and Hannover 96, the chance to kick-off the 2. Bundesliga season will come as a huge relief after seasons that both would like to quickly forget.
Kaiserslautern were trapped in the doldrums last year, whilst Hannover's 14-year stay in the Bundesliga came to a meek end. The latter, who have retained Daniel Stendel as coach, are amongst the favourites to go straight back up, but there are more modest expectations for Kaiserslautern to meet.
Former Hannover coach Tayfun Korkut now sits in the hot seat at the Betze, but most accept that he has a tall order to get the club back amongst the front-runners this season. Nevertheless, the clash on Friday night between the revamped sides remains a hotly-anticipated encounter.
Time to move on
As a sign of how big a hitter Kaiserslautern remain, this is the second season in a row that they have been chosen to open the 2. Bundesliga season. Last year their started with a 3-1 victory over then newly-promoted MSV Duisburg, all three goals coming in the opening half-an-hour, with Kacper Przybyłko scoring two on his debut.
It all started so well, but the best metaphor for way their season panned out was the form of Przybyłko, who scored only five more goals for the rest of the season as FCK finished a lowly tenth, with neither Kosta Runjaić or Konrad Fünfstück able to kick them out of their lull. They did finish with four wins in their last six games, although their final outing last season ended in a 5-2 defeat to FC St. Pauli.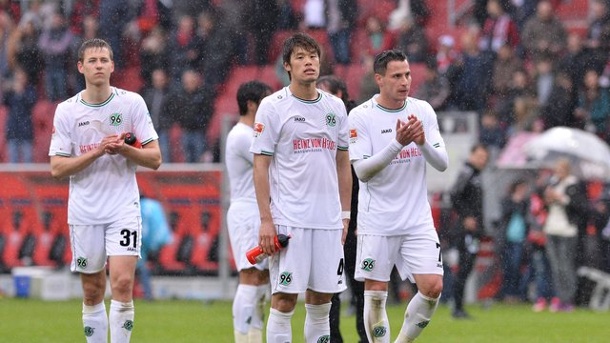 Hannover themselves had a season to forget as they dropped out of the Bundesliga like a lead balloon. A 2-2 draw in their opening game against newly promoted SV Darmstadt 98 left them ninth after one matchday, but they never reached those dizzy heights again.
The five-game losing streak that followed set the tone for the rest of the reason, and despite hovering around 14th in October and November, by the start of the Rückrunde they fell to bottom place again, and that's where they stayed right to the end.
A brief revival once Stendel was put in charge, with two wins and two draws in their last six games, came far too late to save their Bundesliga status, but it was enough to earn the 42-year-old the chance to get the club straight back up.
Neither side on the back of a fluent pre-season
Kaiserslautern aren't coming into the new season with the hottest streaks of form, with two defeats against FC Luzern and FC St. Gallen, but 1-1 draws in their final two friendlies against Brentford and FC Metz were still solid enough score lines, whilst their game before that ended in a 3-0 win over near-neighbours FK Pirmasens.
Hannover started pre-season with a run of six wins, with 54 goals scored, ending with a 5-2 victory over Eredivisie side NEC Nijmegen. Since then though, they've lost 1-0 to 3. Liga club VfL Osnabrück, drawn 3-3 against Hallescher FC and Erzgebirge Aue, but finished on Saturday with a 3-2 win at Carrow Road against Norwich City.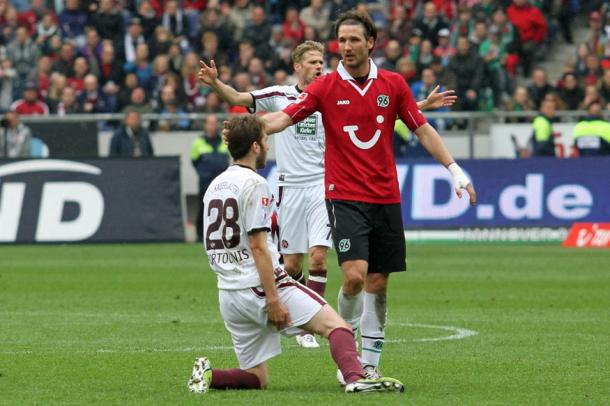 First meeting for four years
The two teams haven't met competitively since the final day of the 2011-12 season. Hannover, assured of seventh-place, beat an already-relegated Kaiserslautern 2-1, coming from behind after Pierre de Wit gave the Red Devils an early lead.
An Alexander Bugera own goal levelled the game before half time, and Didier Konan Ya headed in the winner to ensure Hannover finished the season unbeaten at home. The only survivors from that game are Hannover's Artur Sobiech and Manuel Schmiedebach, who both came off the bench that afternoon.
Overall, Hannover just hold the edge with 20 victories in 45 matches, with Kaiserslautern winning 18, and seven draws.
Halfar and Schmiedebach to lead their sides out
Speaking ahead of the game, Korkut acknowledged that Hannover are one of the favourites for promotion, but is confident his side are prepared. "We have worked a lot in the last few weeks on what we want to bring to the pitch," he said. "We want to be brave and use our weapons."
Speaking about his time with Hannover, he said "I had a good time in Hannover. I felt very comfortable there and even after my departure I had good contacts with the club. But that is finished on Friday."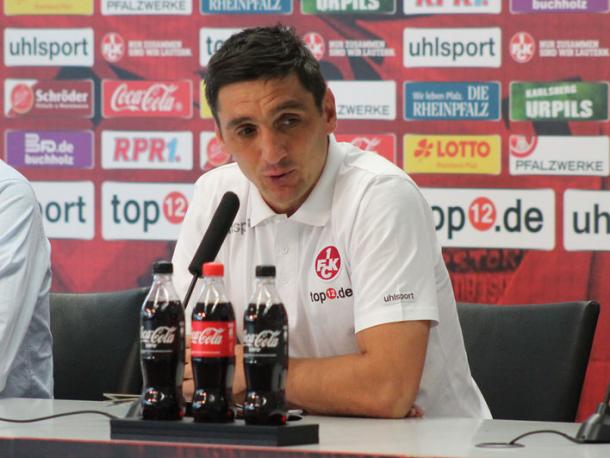 He also confirmed that Daniel Halfar will remain captain. "I did not think twice," he said. "He identifies completely with the club and knows about the responsibility of the role."
Halfar himself said: "It is an honour for me to continue to be captain." He added: "I'll try my best to be a leader and to support the team."
Stendel on the other hand had no choice but to pick a new captain, with Christian Schulz having left for SK Sturm Graz. Schmiedebach has been entrusted with the armband, and naturally he is proud to have received it.
"After all the ups and that's that I have witnessed at this club, it is an honour for me to fill the role of captain," he said.
Meanwhile his manager is looking forward to the game. "Lautern, Friday evening, the season opening - what could be more beautiful?" he asked.
He also believes that the club is ready to fulfil its role as one of the promotion favourites. "We have a new team, we are in a new league," he said. "Friday evening in Kasierslautern, we accept the challenge."
Few concerns for Kaiserslautern; new signings out for Hannover
Kaiserslautern fielded a pretty settled side in their most recent friendlies, which one imagines they will stick with going into this game with no injury concerns, unlike their opponents.
In defence new signings Phillipp Mwene and Naser Aliji will fill the full-back positions, with last season's primary centre-back pairing of Stipe Vucur and Patrick Ziegler sandwiched in-between. Christoph Mortiz, who has signed from 1. FSV Mainz 05, will add experience to the midfield.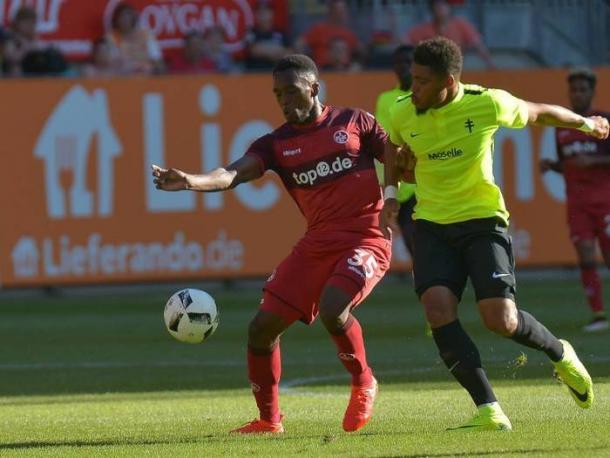 English striker Osayamen Osawe looks set for the nod up front, with Przybyłko struggling following surgery in the summer and Jón Dadi Bödvarsson having left this week for Wolverhampton Wanderers. They will look to their Halfar to be the main creator behind him.
Although no-one has been ruled out of contention due to injury, Mateusz Klich could miss the game with tonsillitis, whilst Marcus Piossek and Sebastian Jacob are also ill.
Hannover have several players out injured, most notably Niclas Füllkrug, who joined in the summer from 1. FC Nürnberg, and former SC Paderborn 07 skipper Marvin Bakalorz. However Salif Sané is available after illness, although question marks remain over his future with a move to 1. FC Köln reportedly on the table.
Sobiech will probably lead the line alone with Füllkrug out, with new signing Martin Harnik and Felix Kraus on the wings. Sebastian Maier, signed from St. Pauli, will sit behind him.
Florian Hübner, who arrived from SV Sandhausen, will probably have to settle for a place on the bench with Sané and Waldemar Anton getting the nod in the defence. Philipp Tschauner is the new number one with Ron-Robert Zieler now with Leicester City.
Predicted line-ups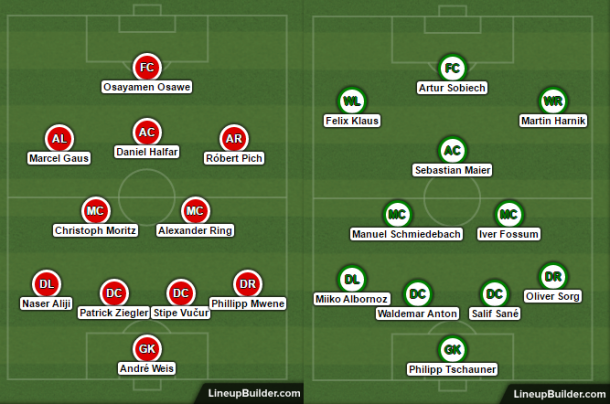 Quotes via 1. FC Kaiserslautern, Hannover 96, T-Online and Kicker.