Eintracht Braunschweig were able to get their season off to the perfect start on Sunday afternoon as they saw off Würzburger Kickers.
The 2.Bundesliga new boys put up a challenge as they battled at the Eintracht-Stadion, however the quality of Die Löwen shined through and goals from Salim Khelifi and Julius Biada were enough for three points.
Würzburger Kickers did fight back with a goal from Elia Soriano, despite the goal the Kickers' momentum was halted after Emanuel Taffertshofer found himself walking down the tunnel and heading for an early shower.
Khelifi opened the scoring
The ball was in the back of the net soon after kick off, an early corner for Braunschweig saw the ball bundled home. Celebrations were cut short however as the referee awarded a freekick following a foul on goalkeeper Robert Wulnikowski. The 39-year-old needed treatment after play was halted, however, fortunately for Wulnikowski his afternoon didn't end early.
The action took it's time to arrive in the first half as both teams battled it out. It took until the 23rd minute for the game to have it's first real chance and that fell to the feet of Dominick Kumbela. Philemon Ofosu-Ayeh managed to keep hold of the ball on the edge of the area before picking out Kumbela and the veteran striker could only fire over from close range.
The opening goal came on the brink of half time, Patrick Schönfeld charged down the right side before bursting into the area. The midfielder then played a perfectly weighted pass across to Khelifi who powerfully fired past Wulnikowski.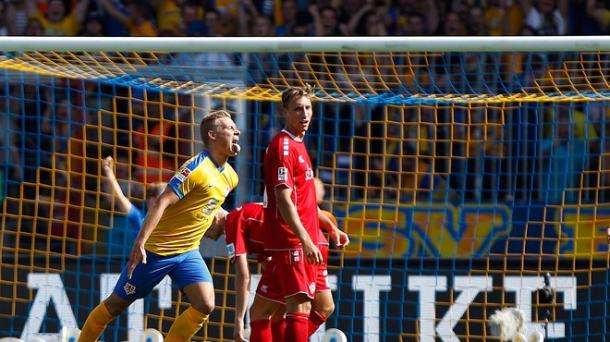 Braunschweig's second came nine minutes into the second half. Würzburger Kickers cleared the ball away, however, the ball was quickly fired into Ofosu-Ayeh who quickly slipped the ball into Biada and the newcomer finished low into the bottom corner from just inside the area.
The Kickers managed to get themselves back into the game soon after conceding the second. Just after the hour mark the ball was cut back to the free Nejmeddin Daghfous and his scuffed effort was nudged past Jasmin Fejzić by Soriano.
The game soon returned in favor of the hosts as seven minutes after the away side pulled a goal back they had a man sent off. Ofosu-Ayeh charged towards Wulnikowski's goal and there was only one way to slow him down and they was to foul him. Emanuel Taffertshofer chased down the Braunschweig man and could only bring him down which meant as the last man he was awarded a red card.
There weren't many more chances for either side as Würzburger Kickers sat back and Braunschweig looked to settle the game.
Up next for the hosts is a trip to St. Pauli, while Würzburger Kickers return home for their eagerly awaited match against Kaiserslautern.