With over two months away from football, the season finally begins for VfB Stuttgart, following their cruel relegation from the Bundesliga last season. The club will certainly be expecting promotion back to the top division this season, Jos Luhukay's team's first test comes against FC St Pauli.
What's in store for the two sides this season?
St. Pauli finished 4th in the 2. Bundesliga last season, and like the aspirations of their opponents, they will be hoping to push closer to promotion.
Since 2000, St. Pauli have been the team sniffing around the promotion areas, and have been promoted to the top tier twice and relegated back to the 2. Bundesliga on both occasions.
With teams around them strengthening, Ewald Lienen's team will have to raise their game, their biggest test comes today as they travel to Stuttgart to face the favourites to win the league this season.
Stuttgart's relegation was cruel in truth, considering the talent they have in their squad. Despite losing a number of popular faces as a result of their relegation, die Schwaben still have a team of Bundesliga quality, putting the odds in their favour to march to promotion free of hassle.
However, Stuttgart shouldn't be complacent in their efforts to go back up, especially after seeing the ability of those around them. Fellow relegation sufferers, Hannover 96 swept through Kaiserslautern in their opening away day test.
The season is long, but Hannover certainly sent out a statement of intent with their punishing victory.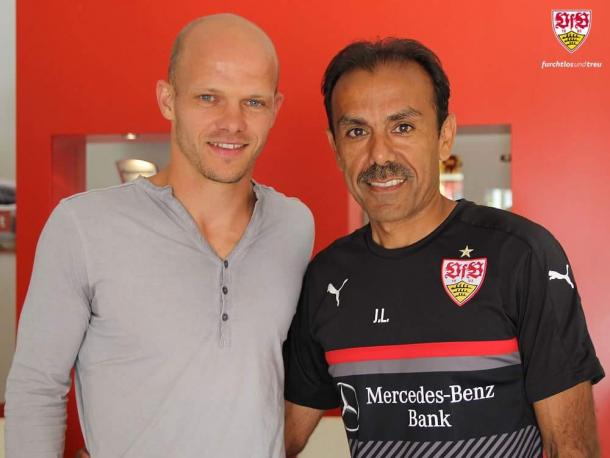 Pre-season form
Newly appointed coach, Jos Luhukay will be hoping to carry his team's tremendous pre-season form into the league, as they were unbeaten across six pre-season tests.
Today's visitors' pre-season was far less inspiring to Stuttgart's, suffering four defeats in four games, however, with the excitement of the league being back underway, the memories pre-season will be firmly pushed aside.
Predicted line-ups
VfB Stuttgart: (4-2-3-1) – Langerak; Zimmer, Sunjic, Sama, Insua; Hosogai, Gentner; Klein, Maxim, Kliment; Terodde
FC St Pauli: (4-2-3-1) – Himmelmann; Ziereis, Sobiech, Gonther, Buballa; Nehrig, Buchtmann; Sobota, Picault, Miyaichi; Bouhaddouz.
With a long season ahead of them, both teams will be hoping to start strong in the bid to meet their wishes of promotion next season. Stuttgart in particular will be eager to get a win in front of their home fans, and fire a response to Hannover to apply the pressure so early on.