If VfB Stuttgart didn't already know they wouldn't have it all their own way in the 2. Bundesliga, they do now, as Fortuna Düsseldorf got a well-deserved victory on Friday night.
It was another clash in the second-tier between two former German champions, even if it's been 83 years since Düsseldorf won the title, but this game was expected to go only one way.
Against those expectations though, Stuttgart were mediocre at best, with Düsseldorf having the best chances in the first half, before deservedly taking the lead thanks to a penalty from Ihlas Bebou just after half-time.
Stuttgart inevitably applied the pressure, but Simon Terodde missed the sort of chance he would have put away a hundred times before, and was then denied a clear shout for a penalty in the game's final embers as Düsseldorf clung on to victory.
Two changes from both sides
Stuttgart are most people's favourites to go straight back up after their shock relegation last season, however they had to dig deep to seal victory against FC St. Pauli in their first game of the season.
Trailing to an Aziz Bouhaddouz goal at half time, Jos Luhukay turned to Alexandru Maxim for inspiration, and that's exactly what he got. The Romanian equalised for the Reds, and inspired the side to victory, with Christian Gentner getting the late winner.
Unsurprisingly after the impact he made in that game, Maxim was brought into the starting eleven here. In fact Stuttgart started with the same side that finished that game, with Boris Tashchy replacing Berkay Özcan.
Tobias Werner, who recently joined from FC Augsburg, was on the bench following the stillbirth of his baby son. However they were still without Kevin Großkreutz as he recovers from a muscular problem.
Two early goals against SV Sandhausen left Düsseldorf reeling in their opening match on Saturday afternoon. Adam Bodzek managed to get one back, but it took an own goal from Sandhausen's Daniel Gordon in the 89th minute to get them the point.
There was bad news in that game as well, with new signing Özkan Yildirim having to be stretchered off after coming off the bench and will be out for several months with a femoral fracture.
For this game, Fortuna dropped Christian Gartner in favour of Marcel Sobottka in the centre, whilst Emmanuel Iyoha also dropped out in favour of Jerome Kiesewetter, with Bebou taking on the lone striker role.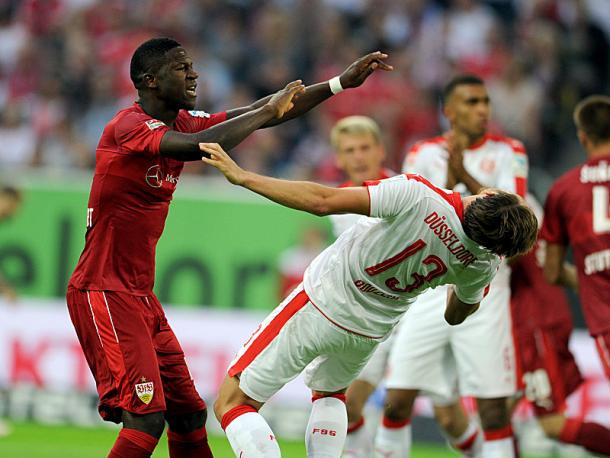 Langerak keeps Stuttgart in it
Stuttgart, as expected, dominated the possession in the first half, but they did little with it in a frustrating first half. And there was a big early blow for them, as the experienced Hajime Hosogai was forced off in the tenth minute with a muscle injury.
The only proper chance they had came in the fifteenth minute, when Jean Zimmer sent a header wide. Defender Stephen Sama got an ambitious shot from distance on target, but it was a straightforward save for Michael Rensing. Otherwise, Maxim struggled to influence the game like on Monday night, whilst frontman Terodde was anonymous.
Düsseldorf were looking settled early on, soaking up what pressure came their way, and as the half progressed they really grew into it, and if not for Mitchell Langerak they would have taken the lead not once but twice.
A Lukas Schmitz cross into the box presented a headed chance for Bebou, which was blocked by Langerak, who then was in the way of another effort from the head of Oliver Fink. Even then Axel Bellinghausen had a chance to shoot, but Sama got the ball away from danger.
Minutes later and Langerak was the hero again. A well-place free-kick from Bellinghausen was headed onto the post by Alexander Madlung. Kevin Akpoguma headed the rebound back to Sobottka, and his attempt was blocked by Langerak, with the Australian able to make himself big to block the path to goal.
Bebou makes it advantage Düsseldorf
After an initially quiet start to the second half, Düsseldorf were given a golden chance to take the lead from the spot. Fink came into the box, looking for a cross, but Sama, who had already been booked, appeared to get a slight touch on his leg, enough for the referee to point the spot, but not to reach for his notebook.
Bebou was the man to take the penalty, and this time the inspired Langerak wasn't able to do enough, guessing the right way but not reaching a high strike from the Togolese forward.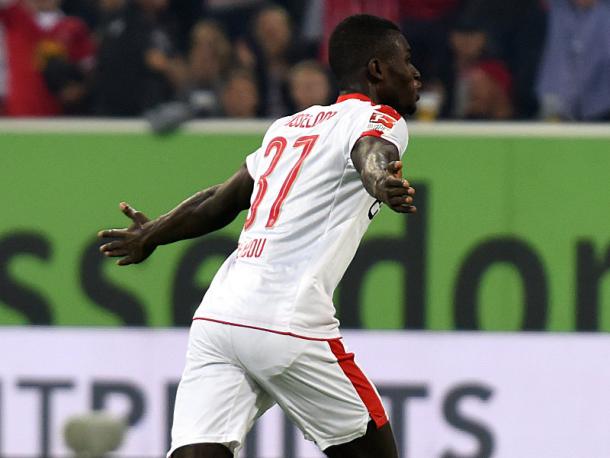 Stuttgart were looking tepid, and in need in saving. With Sama pushing his luck, he was hooked off for Werner to make his first appearance for the club. And he made an immediate difference, pulling the strings for Stuttgart and even crafting a chance to head on goal for Terodde, saved by Rensing.
On the flip side, he also managed to get a yellow card after sliding in on Rensing. And as things got more frantic later on, his influence waned.
A lively couple of minutes down the right-wing for Kiesewetter produced a couple of opportunities for Düsseldorf. One eventually led to Fink striking hard from outside the box, with Langerak getting the slightest of touches to ensure it went over.
Terodde denied penalty at the death
Terodde wasn't getting many opportunities to get his first goal in Stuttgart colours, but when one did present itself, he wasted it. After Emiliano Insúa received an excellent long ball, he slid it across to the man who scored 25 goals for VfL Bochum last season, but rather than hit the target here he could only hit the side netting.
Düsseldorf could have left him really regretting that, but it was Langerak again who just about kept them in it. Bellinghausen and then Ngombo got the ball through to Gartner, who had only just come from the bench. He must have thought he had scored, but Langerak jumped high and got the ball over the bar.
Stuttgart piled on the pressure as stoppage time approached, with even Langerak coming forward for a late corner. Rensing was equal to everything that came to him, although he perhaps missed the chance to exploit his opposite number being out his goal.
But the big talking point came right at the end. Toni Šunjić headed the ball onto Terodde, who felt he was brought down by Madlung as he put the effort off target. Despite Stuttgart's protests, even after the game finished, the referee Benjamin Cortus refused to give the penalty.
A dramatic ending but it made no difference to the result. Stuttgart were beaten in their second game of the season, and Düsseldorf, simply looking to avoid another relegation battle this year, were top of the embryonic table.