Following an impressive season, 1. FC Köln have extended the contracts of two important players in Leonardo Bittencourt and German international Jonas Hector that will see the duo stay at the club until 2021.
Motivated Manager
Coach Peter Stöger spoke of his delight on the Hector extension: "Jonas has made progressed tremendously as a player of FC. He began as a player in our U21 and through his determination he managed to establish himself as our starting player in the Bundesliga and even for the German national team."
The boss added, "Most recently he showed some incredible performances at the UEFA Euro 2016 in France," and later Bittencourt's deal: "Leo proved in his first year with us that he is a player with plenty of potential. The fact that both of them decided to extend their contracts at an early stage makes us very happy."
The double deals come after midfielders Yannick Gerhardt and Kevin Vogt left for for neighbouring sides in the league table, but relief was drafted in the form of Sehrou Guirassy, Marco Höger, Konstantin Rausch and Artjoms Rudnevs.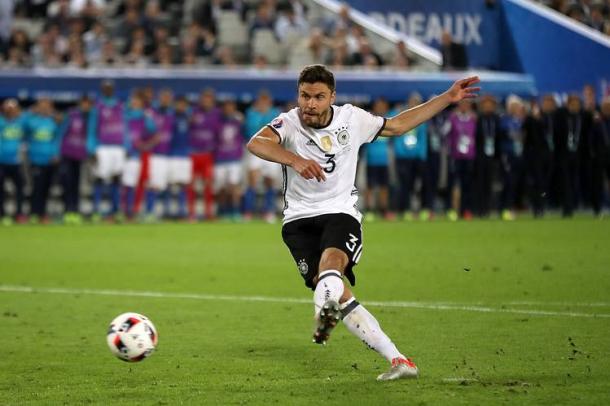 Duo in good hands
Hector — a left-back by trade, who can also play in midfield — old has been at die Geißböcke since 2012 and having impressed in 100 appearances for the historic club, was strongly linked with Premier League giants Liverpool FC all summer.
Having excelled at club level, the versatile 25-year-old earned a call-up to the Germany squad from Joachim Löw in late 2014 and, since then, has dominated the position; playing in his first major tournament at Euro 2016.
"I feel totally happy to be a part of this team and am comfortable here at FC," said the Saarbrücken-born defender. "Everything fits for me here so the contract extension was a logical step."
Also crucial for Köln has been advanced midfielder Leonardo Bittencourt. The 22-year-old arrived from now-relegated Hannover 96 after two successful campaigns, and, the season of last, notched seven goals and assists in 29 Bundesliga games to gift his side with a lofty 9th place finish.
Bittencourt also had something to say: "In 1. FC Köln I found a club where I feel really well and it is a team with which I would like to achieve many things."
He added, I decided on the contract extension with complete conviction. I am very happy to be part of this extraordinary club for many years to come."