It may have been the ominous red and black striped shirt of AC Milan which led to them being dubbed "Il Diavolo" – the devil, but subtle footballing omnipotence has affirmed the nickname. Milan's performances prior to and after the turn of the century were satanically menacing as they established themselves as one of Europe's iconic footballing cults.
Almost unprecendented success
Perhaps perfectly embodied by the unthinkably loyal Paolo Maldini, who spent in total 31 years at the football club, "I Rossoneri" became one of the most heralded football clubs in Europe. Winning eight Serie A titles between 1987 and 2007, as well as five European Cups, they tasted unprecedented success and the aforementioned Maldini was almost omnipresent throughout this period, marshalling an era of brilliance from defence. Establishment as a European footballing superpower came hand in hand with this success and the prestigious footballing names which graced the Stadio Giuseppe Meazza – Ruud Gullit and Andrea Pirlo are just two of many.
The club's current predicament is close to antithetical. Without a major trophy since 2011, the club famous for its success in European competitions has not competed in Europe for two consecutive seasons, and further struggles in the league may extend that to three. They sit currently in 6th place, having finished in 10th and 8th in the previous two seasons with any domestic dominance which may have existed a decade ago having been relinquished.
Menace which had resided within the club had been bred by an integrated set up which gave Milan fluidity to sweep aside other teams. Now, the squad can justifiably be described as fragmented. Reliance on financial muscle has replaced more considered transfer policy leaving the Rossoneri squad being comprised of a collection of suffering mercenaries rather than a combative integrated unit.
Flawed transfer policy
This isn't to say that talented players haven't been recruited. Last summer Carlos Bacca was brought in having won two consecutive Europa League winner's medals with Sevilla and boasting a fine goalscoring record, and he has had some success so far, scoring 13 goals already in his short Milan career.
However, the signing of Bacca emits the distinct message that they are a club in a panic looking to players like the Colombian to solve their problems in the short term. This is contrary to the previous famed generation, many of whom rose through the ranks from being young and inconspicuous. Players were brought in, and often for big money, but they added to an already established spine of talent, one which doesn't exist currently.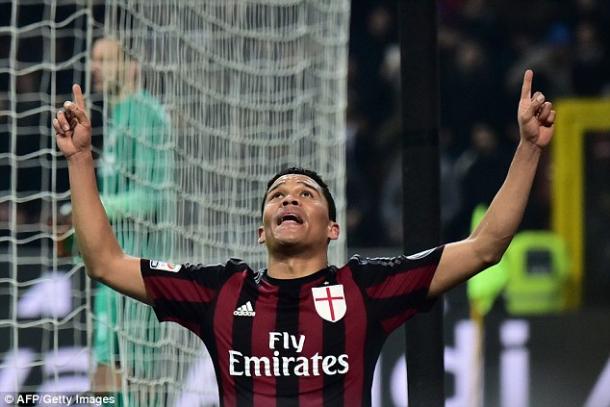 Attacking play devoid of confidence
Furthermore, this fragmentation is most evident in their performances, which are often uninspiring, and, as seen in their 0-0 draw with Chievo on Sunday, devoid of fluidity. With players such as the skilful Keisuke Honda seemingly inhibited and lacking confidence when attacking, manager Siniša Mihajlović faces serious psychological issues when it comes to his side scoring goals.
Moreover a lack of continuity further exacerbates these problems, and this is only to be expected at a club which has employed four different managers since the sacking in 2014 of Massimiliano Allegri, who to rub salt in any Milanese wounds has walked into a successful regime at Juventus since leaving the San Siro.
A perfect example of the tumult which has engulfed the club has been Jeremy Menez who, having been the club's top goal scorer last season under Filippo Inzaghi, has found himself consigned to a bit-part role this term.
Their home, the San Siro, stood once as a symbol of their dominance. A fierce bowl, whose steep-sided stands were filled with some of the most zealous and dedicated footballing fans, in turn, inhibiting the every movement of the opposition from minute one. Yet now an eerie atmosphere resides inside it, with there often being more empty seats than those occupied, symbolising the loss of belief of one of the most previously ardent fan bases. Look simply at the falling attendance statistics and the diminishment of the aura surrounding the club will be plain to see.
Falling behind resurgent rivals
One may hold onto the fall in attendances being part of a trend seen around Italy, however Milan's average attendance is now 10,000 less than city rivals Internazionale, who occupy the same stadium. To put this into context, ten years ago AC Milan's attendances were on average 8,000 greater than Inter's and it is the resurgence of their city rivals which will exacerbate the pain of the Rossoneri supporters. Having unearthed talisman Mauro Icardi and reinstated former manager Roberto Mancini, Inter now sit six points ahead of their most bitter rivals in Serie A and look more likely to qualify for European football once again as a result.
European qualification is far from being out of reach for the Rossoneri, especially as they have reached the final of the Coppa Italia. However, recent form, particularly the last two games against Chievo and Sassuolo, has dented confidence that, even if Milan do return to European football, they will do so seamlessly.
Overall, their European absence has seen their reputation fade. Il Diavolo no longer seem to instil fear in the minds of opposition, instead they are seemingly a club in decline and under immense pressure to haul their way back up to Italian football's top table.
They may have fallen into the shadows for now yet the rise into first team prominence of the young academy graduates Gianluigi Donnarumma and Mattia De Sciglio will give Milanese football supporters hope that homegrown talent still may lead a resurgence by the Rossoneri.