Should Juventus fail to extend Juan Cuadrado's stay in Turin, the Italian club may turn to Serie A to find a suitable replacement. The Bianconeri are reportedly looking at Lazio and Italian national team winger Antonio Candreva as Cuadrado's successor. The winger previously played for the Old Lady during a loan spell in 2010.
Sky is reporting that Candreva is wanted by Juve. The same report also states potential rivals for his signature in both Milan clubs.
One of Lazio's best
The 29-year-old attacker has consistently been one of Lazio's best performers during his time with the club. Things haven't changed this season, as the Italian has bagged nine goals and registered three assists across all competitions. His seven domestic goals lead the squad.
His performances for the capital club have helped him nail down a consistent spot in the Italian national team. Candreva appeared in both the 2013 Confederations Cup and the 2014 World Cup with the Azzurri.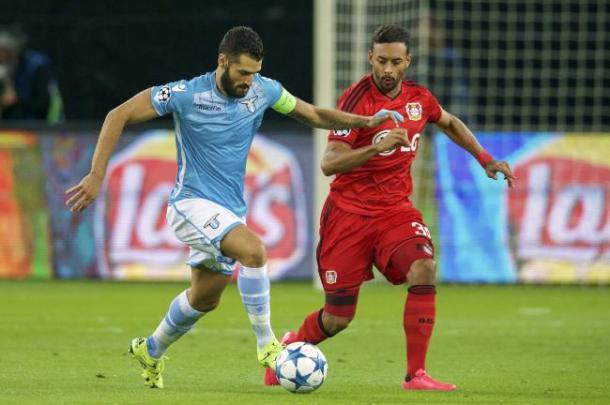 Utility player
In addition to being an Italy international, Candreva also holds the distinction of being an extremely flexible player where his position is concerned. So far this season, the Lazio star has played as a forward on both the left and the right, a right midfielder, an attacking right midfielder and an attacking central midfielder.
Potential fit in Turin
As the reports states, Candreva would likely replace Cuadrado in Max Allegri's squad. The World Cup veteran would team with Stephan Lichtsteiner to form a potent pairing on the right side of Juve's formation.
While Candreva probably can't contribute as wing back like Cuadrado, his ability to play multiple positions in the attack would provide Allegri with the ability to continually tinker with different formations. It certainly doesn't hurt that the winger has an eye for goal.
Adding the winger give Juve yet another presence on the Italian National team, where Gianluigi Buffon, Giorgio Chiellini, Claudio Marchisio, Leonardo Bonucci, Andrea Barzagli and Simone Zaza are all called up regularly. Young central defender Daniele Rugani could also become a regular in time.