The contract saga involving Francesco Totti and Roma could end posititvely for both parties Corriere dello Sport suggested today.
The 39-year-old veteran and the capital club's relationship in recent weeks has hit the rocks with various reports suggesting Totti's current deal won't be expired past this summer despite his wishes to carry on in a playing role.
Corriere dello Sport say that Totti will be granted his wishes and recieve a one-year extension although he will be evaluated by Luciano Spaletti as to whether he will be of any use. If it's decided that Totti isn't of any use, a loan to the MLS has been heavily reported in order to enable Roma's wishes of seeing Totti fulfil a directors role.
Concerns over playing time started saga
Totti voiced concerns over his lack of playing time only to find himself dropped from the squad entirely by Spaletti for the Stadio Olimpico club's 5-0 win over Palermo to the dismay of fans. Fans sang Totti's name in support throughout the game and banners were also plentiful in the depleted stands.
Admittedly Totti doesn't have the legs he once did but he certainly does still posesses the skill and leadership qualities, the latter of which is particularly invaluable to the team.
Sampdoria another option
The aforementioned possible MLS loan move was reported as being to New York City FC who boast compatriot Andrea Pirlo but that is not the only option out there for Totti who has pulled on the Roma shirt over 750 times since his promotion from the club's primavera in 1992.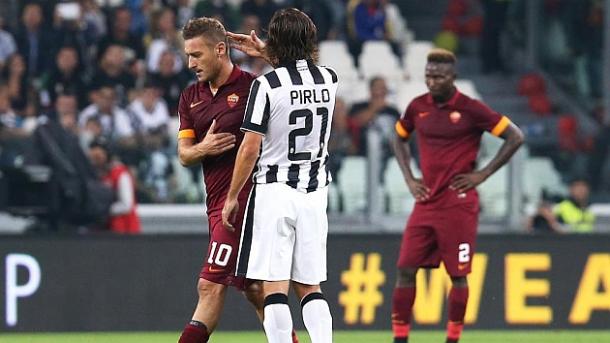 The same Corriere dello Sport report suggests Sampdoria have put themselves out there as a possibility with a lucrative deal said to be on the table to Er Purpone. However big money could not tempt Totti away from his beloved club to ambitious Turkish outfit Antalyaspor last Summer.