In an interview with Il Mattino, Napoli playmaker Marek Hamsik has revealed he would "like to win the scudetto" and "dreams of a big party."
Going into Serie A's 31st matchday, the partenopei sit second in the standings, three shy of reigning champions Juventus and seven clear of third placed Roma with 24 points left to play for.
The scudetto has only landed in Naples twice, both coming in the glory filled Diego Maradona days but Hamsik says that is a "big dream" for him and "for many people" to capture Italy's most coveted domestic trophy and says that he'd "like to win to scudetto."
Tough matches ahead
The Stadio San Paolo outfit's run in is relatviely straight forward barring ties with Champions League chasing Inter Milan and aforementioned current bronze medalists Roma. Amongst the other six include games with Hellas Verona and Frosinone on the final day.
Speaking on the Frosinone game the Slovakian international said "I dream of a big party at our stadium for all of us and our fans."
Despite being seemingly confident, Hamsik did say that the upcoming matches are "tough" and Napoli just need to continue to "pick up more points" while "opponents lose some (games)."
Napoli are currently on a three game winning streak and six game undefeated streak and face Udinese this Sunday hoping to extend both.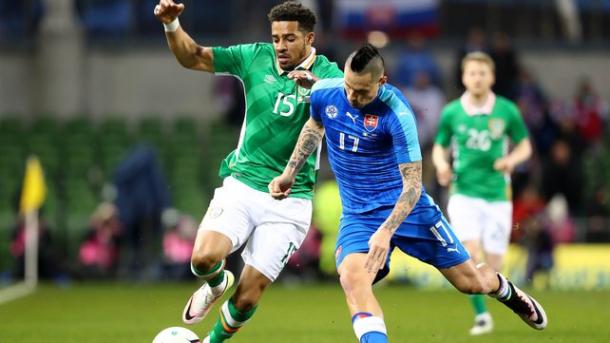 Fans very important
"We're looking forward" the 28-year old continued. Napoli have put in many an impressive performance this term, something Hamsik is sure of himself, "We're getting results and we've shown what we can do."
He went on to say how much he and teammates value the fans support saying it is "very important." Hamsik also mentioned that from here on out the club "can't think about the past" as it is "too difficult" to think about past mistakes.