Lorenzo Insigne's agent has said that the matter of a contract extension for his client "has been postponed until the end of the season."
Despite having three years left on his current contract with Napoli, the club may offer Insigne an improved deal to try and keep any interested clubs away.
Local Hero
The Neapolitan has been a key player for his childhood team this season, scoring 11 goals and providing 10 assists.
According to Insigne's representive, Fabio Andreotti, "Lorenzo's ambition is to win the Scudetto with Napoli."
As Napoli enter the second half of the Serie A season, three points behind league-leaders Juventus, Andreotti believes Insigne can "give the best of himself, on a physical level too. He knows Napoli comes first, and everything else is just a consequence."
National duty
During the international break, Insigne featured in both games for the Azzurri. During their match against current European Championship holders Spain, Insigne came off the bench to score Italy's single goal in a 1-1 draw.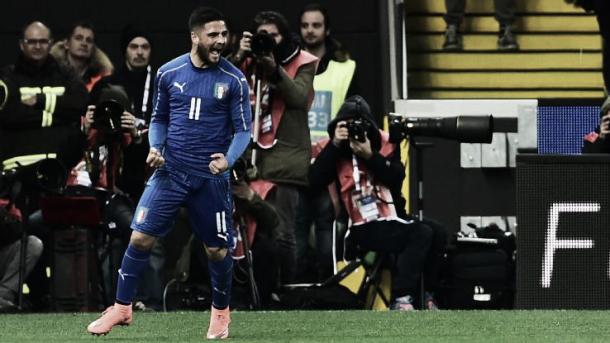 His agent hopes that "what he's doing with Napoli and the national team will convince [Antonio] Conte to call him" up to be a part of Italy's 23-man squad for the Euros.
Prior to their second friendly, Italy captain Gianluigi Buffon ​said that "Insigne is the man who can lift us onto the next level. He's a man who can make a difference."
Insigne was included in Italy's starting line-up against Germany last night, but the match ended in a heavy defeat for the Azzurri.
Andreotti described Germany as having "amazing potential due to the reforms they've adopted and the importance they gave to their youth system."
However he believes that Italy conceded two goals that were down to "individual errors, and if those hadn't happened then losing 2-1 to a top team like Germany is just one of those things."