Gonzalo Higuain has been in electric form this season for Napoli. He has led the charge for their Scudetto title race with 29 goals in 30 Seria A appearances and these stats certainly highlight the importance of Higuain to Napoli; however, his goals and performances have only caused more interest from big clubs.
Napoli are finding it very difficult to try and hold onto Higuain for another season with growing interest.
Now, there is no transfer speculation without a little drama, Italian media giants Mediaset during a broadcast reportedly said, "the striker is ready to leave stadio San Paolo, which means Aurelio Delaurentiis is forced to sell Higuain for nothing less than his release clause, €96million."
Aggressive Napoli
Napoli responded quickly coming out with a statement reading: "required with immediate effect, to terminate immediately the journalistic relationship with mediaset's sports network, which therefore means our members can no longer grant interviews, even at the stadium regardless of any agreement."
This aggressive response further highlights the importance of Higuain for Napoli and to most importantly keep any news or speculation regarding Higuain out of the public eye.
Higuain has went up another gear after leaving Real Madrid in 2013, his goals as mentioned this season, are the reason why Napoli are continuing to fight for the Scudetto and remain only 3 points behind league leaders Juventus.
Clubs interested
It is said to be believed Bayern Munich are at the forefront of signing Higuain alongside Manchester United, Arsenal (who have shown interest last season) and Manchester City all of whom are willing to offer a €10 million per year contract to the Argentine.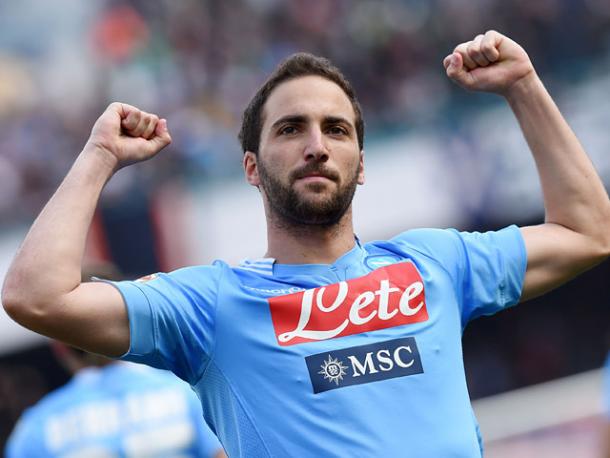 This amount of money from foreign clubs may constraint Napoli to sell, according to La Gazzetta Dello Sport, Higuaín turned down a new contract which would keep him at Napoli until 2020, therefore, Aurelio De Laurentiis will be forced to sell Higuain with his current contract running until 2018.
Will second best be good enough?
It will be very tough for Napoli to hold onto Higuain for another season. A player like Higuain wants to win trophies year in year out and play on the big European stage, like Champions League which Napoli have failed to qualify into. Napoli have stressed the importance of winning this Scudetto not only for the club, the city and the fans but also it holds automatic qualification for the Champions League this season. Second spot also holds an automatic qualification spot, so in saying that, would second place and automatic Champions League qualification be enough to entice Higuain to stay at Napoli for another year?