Maurizio Zamparini, owner of Palermo is worried about the team going down to Serie B, specially after losing against Chievo and facing Lazio on the next Serie A date.
This will be the 32nd game played and Palermo have only managed to get 28 points that sees them in the 18th position of the table. The star player of Palermo this season is the Argentinian 27 year old Franco Vázquez and he will be out for the next game against Lazio because of yellow cards accumulation. The owner knew the risk of losing him and admitted the following "I prayed on my knees to Franco not to get booked, because we need him and instead he went and protested at the final whistle."
The biancocelesti are currently occupying the 8th position and hoping to end in Europa League position, a complicated mission but they will be desperate not to let another point escape them in the final 7 games.
A difficult game
Lazio it's never an easy team, but they just lost 1-4 against Roma and in the last 5 games they had won 2, tied 2 and lost 1. Lazio is facing a moment of weakness and could play in favor of Palermo but they are having a really bad season and one of their star strikers,Vázquez who has 5 goals and 7 assists in 30 games played, is out leaving Alberto Gilardino with the carry of the offensive side of the game, the Italian player has scored 8 goals and has assisted 1 in 27 match played, it won't be an easy game to win and the owner Maurizio Zamparini knows it, he said "It'll be very hard against Lazio without Vazquez. Not winning against the Biancocelesti would be a blow, relegation would be around the corner" he told Giornale di Sicilia.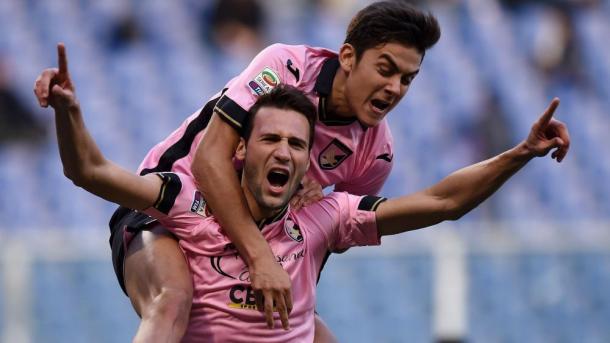 A highly technical match from each side can be expected and one where the players of both teams will be giving their 100% to reach the very different respective objectives of the clubs.
A bad season
Last season the Rosanero ended in the 11th position having a standard season. The only difference between that season and this one are two things the coach and the strikers, in the previous term Palermo had a couple of strikers that were playing really good and very in sync those two were Paulo Dybala now of Juventus and Andrea Belloti now of Torino, both players are having good seasons with their new teams, Belloti has 9 goals and 4 assists in 28 games played while Dybala has 14 goals and 8 assists in 29 games played. This highlights the importance of what individual quality from players can bring to a club.