Maurizio Tonelli was one of the most sought after Serie A defenders in the January mercato and Empoli's president Fabrizio Corsi has came out and told media that he rejected offers from scudetto hopefuls Roma and Napoli.
Speaking on Radio Blu Corsi revealed that Empoli "Roma and Napoli made that Empoli aren't used to hearing" in January and even more so for a defender.
Tonelli, who has spent his whole career with the azzurri was later labelled "decisive" by Corsi.
"We didn't want to sell him" he straight up said. He also implied that players are involved in each and every decision regarding themselves adding "When a decision has to be made, it'll be done with the players sitting around a table."
Inter Milan, Fiorentina and Lazio were three other Calcio clubs said to have shown interest also in the 26-year-old.
Busy summer ahead at the Castellani
After another relatively good season on the park - even though top flight status is yet to be secured - Corsi will no doubt be fielding numerous calls over the summer for his stars.
Piotr Zielinski continues to impress and is due to return to Udinese at the end of the season after a two year loan but Empoli's chances of retaining the Pole on a permanent basis is unlikely with Liverpool said to be wanting his services and easily being able to offer far more than what Empoli could.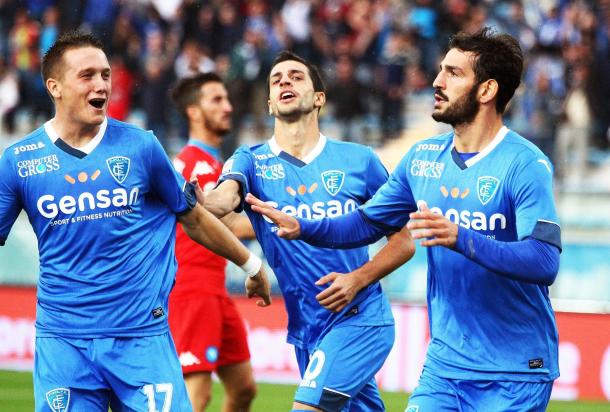 Riccardo Saponara continues to be linked with a move away but has only recently declared he will leave Empoli only for the "right project" having struggled at Milan beforehand.
Tonelli will expectedly be sought after again and a big rebuilding job could be on the cards for Marco Giampaolo. Mario Rui, one of Tonelli's fellow defenders was also a target for many in January but interest appears to have cooled.