At a Roma sponsored event aimed to inform primary and middle school aged kids about the fight against racism, William Vainqueur was present to promote the campaign and talk about the abuse he recieved only recently by Lazio supporter Simone, 16.
Simone travelled up from Naples alongside his father to the capital to personally apologise to the Frenchman for racial comments made after Lazio's 4-1 crushing at the hands of Roma in the Derby della Capitale. As well as apologising, the youngster spoke to the children at the event and admitted he was "absolutely mortified" at his actions.
Vainqueur made people in attendance "stop and think"
After the derby, Simone took to the defender's Instagram account and called the 27-year old a "scimmia (monkey)" something Vainqueur jokingly thanked the Lazio fans for saying he "didnt know" how to say monkey in Italian beforehand.
Vainqueur picked Simone from the crowd first to allow everyone to "stop and think" about racism. He proceded to thank Simone and his father for the "bravery they've shown" by coming to the event.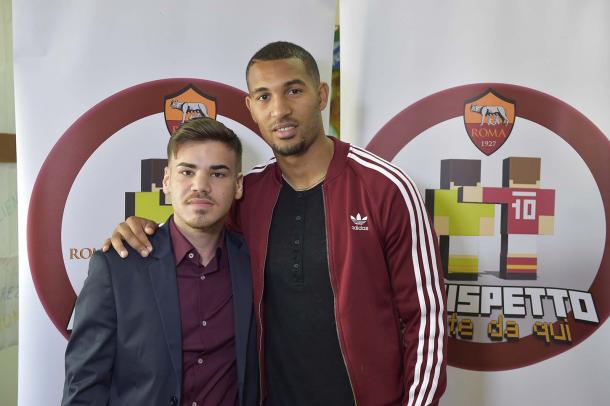 Simone also added that it is never okay to "insult anyone based on the colour of their skin. That should never happen, be it in football or daily life."
Many would agree in saying that the incident shouldn't have taken place in the first place but Simone's actions to make right of his wrongdoing have to be applauded at the same time.
Lazio fans caught up in racial abuse scandal again
This is the second heavily publicised case involving the biancocelesti this term alone after fans made racial jeers albeit in a game scenario towards Napoli's Kalidou Koulibably.
Lazio's president Claudio Lotito attempted to mask the seriousness of the situation saying it wasn't racism as "black lads play for Lazio too." Although his comments were expectedly met with much scrutiny .
Lotito is a controversial figure quite understandably in Italian football and wasn't backed by at the time manager Stefano Pioli, who was relieved of his duties after the derby defeat.
For their actions, Lazio were given a 2 game partial closer of their stadium but no such actions will be taken in Vainqueur's case.
Racism, sadly continues to leave a dark cloud over calcio as a whole with a number of high profile incidents occuring down the years and one can only hope that one day it is truly eradicated not just as Simone says at the football but in everyday life.