Miralem Pjanic has had a stellar season both under sacked coach Rudi Garcia, and even more so now under Luciano Spalletti. His form has created a large amount of speculation regarding his future at the Stadio Olympico and with the begging question if he will commit for another season or pursue a move to another league.
Speculation of Pjanic
The speculation of Pjanic has grown immensely, most recently as newly appointed Chelsea coach, Antonio Conte has expressed his interest and reports he flew into London last week.
Roma President, James Pallotta recently in an interview with RomaRadio immediately put rumours to bed, "They talk about the market and sales to teams like Chelsea, but that's not how it is."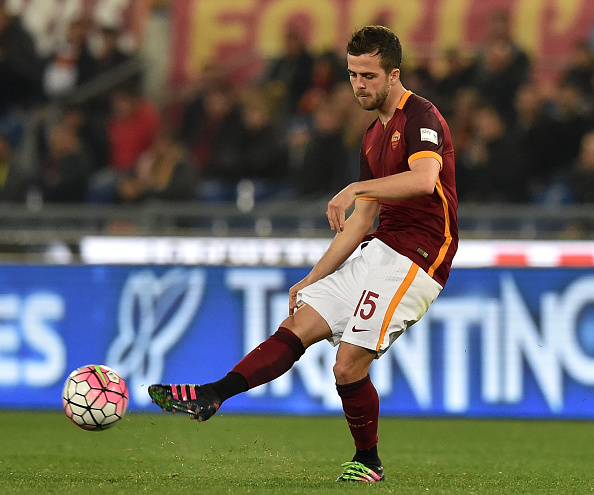 Pallotta continued with RomaRadio and agreed "There is a lot of paper talk of players leaving like Pjanic." That is true, not only has Pjanic acquired want from Chelsea but other Premier League sides also, Liverpool also expressing their interest last season.
Pjanic to stay at Roma?
However, James Pallotta assured the Giallorossi faithful that, "He doesn't want to leave and we won't sell him."
Roma are finding their form and looking to soon enough, if their performances continue, overtake second place Napoli currently only four points away. Pallotta continued with RomaRadio and spoke for the city and the fans, "Even just talking about it hurts the team. I'm tired of these rumours", exactly right as these rumours cannot and should not distract Roma in the run in, though, Pallotta is happy with the recent re-emergence under Luciano Spalletti, "I'm happy with what the team is doing."
Pjanic is only 26-years-old and has been at Roma for five years growing as one of Roma's most important players on the field accumulating 153 games with 26 goals. The run into the summer transfer window will only grow which will make it even tougher for Roma to keep their play-maker.