Roberto Mancini has come out prior to the Frosinone fixture to declare he is "not worried" about his much questioned future at Inter and also over the transfer market where according to him, "you don't need big money to win."
Inter to face Frosinone
Tomorrow Inter face Frosinone away in a fixture that is riding on their quest for European football as the Champions League dream looks all but gone for I rossoneri for another season.
Inter's season started exactly how they would have wanted it to, sitting top but their fast decline has seen Mancini's job questioned more and more each week.
During the press conference pre Frosinone, Mancini joked at the speculation regarding his future, "It seems that other people know more things than I do, but I still have one more year on my contract." Mancini also was quick to shut down claims he had been offered positions from overseas, "I've had no offers from abroad and everything that has been written and said it is untrue."
Over the past few days many have been speculating Inter's transfer window for next season as players such as Melo, Miranda, Jovetic have been poor, they seem to be ready to set players go. "I'm not worried about the transfer window, even if they have to see big players."
Mancini was ready assure the Inter faithful with looking back to his first tenure as Inter coach, "When I first took up Inter in 2004, it took us two years to win the Championship, even though we had a good team". Roberto Mancini knows how difficult the road to success is however, its patience the rossoneri are losing as they are know 18 points from league leaders Juventus.
Nagatomo commits future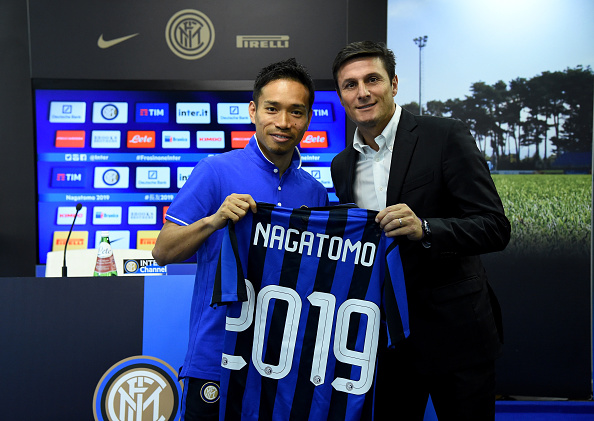 As Mancini sorted out rumours regarding his future, one positive from his press conference was, Japanese defender, Yuto Nagatomo has committed until 2019 with Inter Milan. The versatile 29-year-old however is not available for this weekend's game as he is suspended.