Sassuolo this season have surpassed expectations, currently sitting 7th behind Milan edging ever closer to playing European football next season. Coach Eusebio Di Francesco is not hiding his belief as Sassuolo "continue to dream" and rightly so.
Di Francesco's men currently trail Milan by a solitary point after 31 matchdays and will no doubt be looking to overtake them in the remaining seven outtings including this weekend's fixture. Within their remaining seven are big games with Fiorentina and Champions League hopefuls Inter Milan as well as games with lowly Frosinone and Hellas Verona.
Prior to the match against an in form Genoa side, Di Francesco in his press conference came out and said, "We continue to dream" adding on to his proud team performances, "It would be very nice to achieve it." The neroverdi manager also calmly said his squad are "playing one game at time trying to win them all, starting with the one on Saturday."
Tough match ahead
Saturday's match against Genoa will be a tough match for Di Francesco's men, as Genoa comfortably swept aside a hurting Frosinone side. "It will be difficult against a team that are in a good patch of form, have great physicality and are well coached."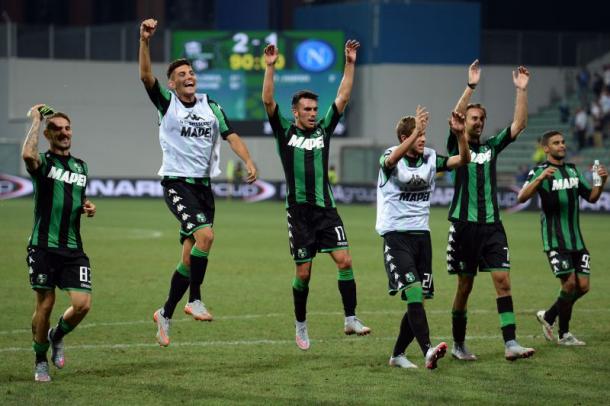 Genoa have successfully booked in another Serie A season and are as Di Francesco said, "in good form" and players such as Suso is showing his worth. Touching on Genoa's safety, "They'll definitely be hungry, we're playing in the Seria A and we're paid professionals and do our best."
This fixture is a mouth-watering one, Sassuolo will be anxiously watching the Coppa Italia final as a victory for Juventus will take them to European football. Meaning, finishing sixth will take Sassuolo to Europa League therefore the Emiliani are hoping to take advantage of this presupposed Juventus victory.