Still sitting rock bottom of the table and as good as down, Gigi Del Neri's decision to not call up last season's joint capocannoniere winner Luca Toni for the second consecutive came as a slight shock to the Hellas Verona faithful.
Facing scudetto chasing Napoli tomorrow afternoon, Verona are six points off safety with seven to play. Within the remaining seven they play fellow survival hopefuls Frosinone and Palermo both currently occupying 17th and 16th respectively.
In Del Neri's pre-match press conference this morning he said the decision to drop the veteran was a "technical decision" and that's the same reason Romulo also misses out.
Comments allegedly played no part
After defeat to Carpi, the former World Cup winner controversially slammed his team's performance saying that they "deserved" to be relegated into Serie B and that some of his teammates "aren't even from Serie A."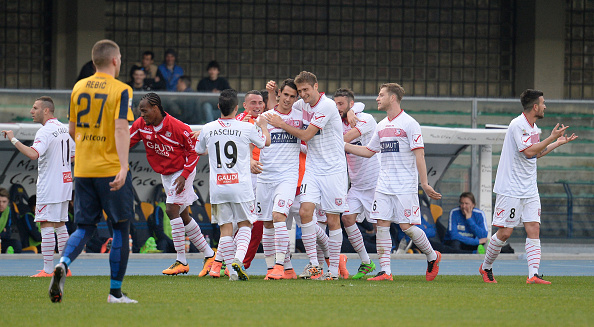 Del Neri however denied this played a part, "I can confirm that I did not agree with his declarations after the Carpi game, but this is purely a tactical and technical decision."
The gialloblu have struggled big time for goals and Toni is joint top scorer with Giampaolo Pazzini on 5 yet Del Neri insisted that he wants "players in attack with different characteristics" than Toni has.
Dreaming of another upset
Verona face Napoli at the perfect time with star man Gonzalo Higuain and manager Maurizio Sarri both serving suspensions after their conduct in the 3-1 shock defeat to Udinese.
Any more dropped points in the remaining fixtures for the Stadio San Paolo outfit will all but hand Juventus their fifth consecutive title.
Del Neri said he is "happy" that there will be a big crowd in Napoli "as it'll give us more energy." He went on to say that he believes the "200 fans who come with us will make themselves heard."
Gives little away on how he'll set up
He revealed that "Samir will start" as it would be "crazy" to leave him out after his goalscoring debut in the shock win over Bologna on Monday. "Albertazzi will be at left back" he continued while the club "are slowly getting Souprayen back to full fitness." He then gave Federico Viviani a vote of confidence saying he has the "characteristics to pull it ( playing infront of the defence ) off."
There was no mention however of how it would shape up further up the field.