Sunday's showdown between Serie A heavyweights Fiorentina and Juventus carries significant implications for both sides. The two teams will meet in Florence in a matchup that could decide a great deal where the league's final standings are concerned.
The Bianconeri currently hold a nine point advantage over Napoli with four contests remaining. If both Juve and Napoli, who play on Monday against Roma, win, the northern club will have to wait until next week to potentially clinch. However, if the Old Lady pick up any kind of points on Sunday and Napoli fall to the Romans, Juventus will win yet another Scudetto.
For the Old Lady's opponents on Sunday, the matchup is also significant. Fiorentina can put more pressure on rivals Inter for fourth place. The Tuscan club currently sit fifth in the Serie A table, but with a win would keep the pressure on the Nerazzurri.
With just three games left, the closer the Viola can get to Inter, the better chance they have to ultimately pass them and finish fourth. The two teams began the weekend with just three points separating them. Should Fiorentina ultimately finish fourth, they would qualify for the Europa League group stage. A fifth place finish would force the team to enter the same competition in the qualifying rounds.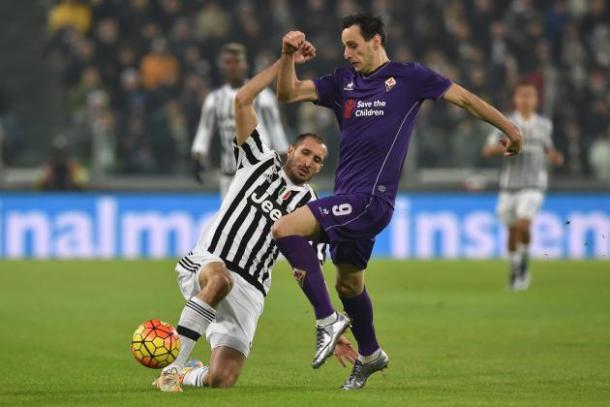 Previous meeting
The last time the two met, Juventus triumphed 3-1 in a contest played in Turin. Josip Ilicic scored an early penalty, but Juan Cuadrado soon equalized against his former club. Mario Mandzukic and Paulo Dybala would later add goals in the last 15 minutes to seal the victory. Cuadrado was especially effective. After notching his team's first goal, he assisted on Dybala's late strike, which came in added time.
Former Fiorentina players with Juve
In addition to Cuadrado, the Bianconeri features two other players who were once on Fiorentina's payroll. Central defensive stalwart Giorgio Chiellini played for the Viola from 2004 to 2005 before signing with Juve. Additionally, deputy goalkeeper Neto was the starter for the Tuscan club from 2011 to 2015. Like Chiellini, he joined Juve after departing Florence
Past form
Of the two sides, Fiorentina's form has been much more checkered as of late. Over the last six contests, Fiorentina has three draws and a 3-1 home triumph over Sassuolo. The Sassuolo contest was bookended by road defeats to both Empoli and Udinese.
Juve, meanwhile, have rattled off five straight domestic wins after being knocked out of the Champions League by Bayern Munich. Over the five-game span, the Bianconeri have three clean sheets and have only allowed two goals.