Luca Toni had bid farewell to the Serie A with a panenka and a 2-1 win against current Seria A champions, Juventus at the Bentegodi. Luca Toni described the win and the evening as a, "magical night."
The Italian legend played his final game for Hellas Verona against Juventus in a match where emotions were running high as one; Verona are officially relegated and Toni's recent retirement announcement.
A night to remember
Speaking to Mediaset Premium, the 39-year-old could not contain his emotions, "It's had to say what I'm feeling right now," and he can, "Only say thank you to everyone who allowed me to have this magical night."
As mentioned, Hellas Verona ran out 2-1 winners and in Toni's eyes it was, "Wonderful to be applauded by the opposition fans too," and his eyes was an, "Evening I will remember forever."
Luca Toni scored past Juventus goalkeeper, Neto, in style, scoring with a Panenka, though he did not plan to score it that way as in his view he believed to, "Go to the right or the left, so I decided for the chip instead."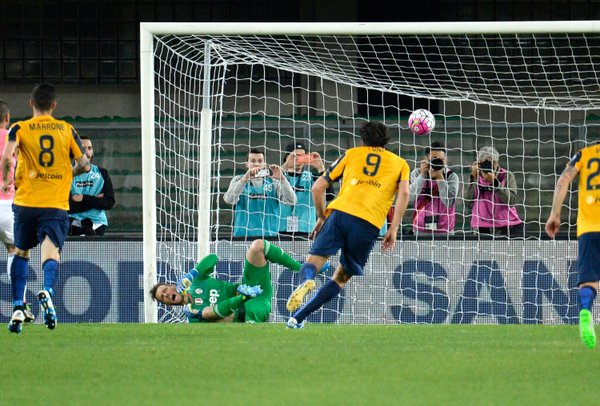 Luca Toni, who turns 39 later this year, ends his footballing career with a record number of 585 appearances scoring 235 goals. He also ends his career with an immense amount of honours; Serie A title with Juventus, Serie B with Palermo, German Champions with Bayern Munich and also the coveted of them all, a World Cup winner with Italy in 2006.
Luca Toni believes the end is one of the most, "Wonderful and saddest moments," of his life because, "leaving football is not easy."
As Hellas Verona are relegated to the Serie B, Toni knows this was not one of the best ways to leave football but in his eyes, "It was only right that this moment had to come eventually."