Napoli midfielder Marek Hamsik has revealed that he's completely happy at the Serie A club, and may never wish to leave.
The Slovakian international has spent almost ten years with Napoli since arriving in 2007 from Brescia. During that time, the 28-year-old has made 319 appearances for I parteponei, scoring 81 goals.
In a recent interview with Slovak media and reported by Calcio24, the player admitted that Napoli is, "my city," and also "Probably going to be my last".
Over ten years, Hamsik's position has varied with different coaches, however, ever since the arrival of Maurizio Sarri, the midfielder feelss he's, "more in the heat of the game."
Hamsik this season scored only six goals, though created an impressive 93 chances for Napoli, leading him to state "it's been the best season in my career".​​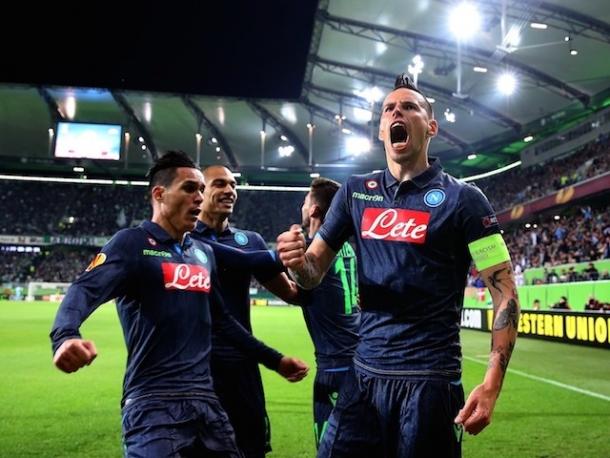 Napoli is more than just a club for Hamsik
It is no lie that Hamsik has been linked to many top European club's over various transfer windows, however he believes Napoli has given his family so much that there is reason for him to leave. He acknowledges, "Every year I hear about teams that want me," as complimentary as it is, Hamsik always chooses his family first, he continued, "This is where my family were born and where they grew up. I have a long contract and there are no problems whatsoever," he assured the Napoli faithful.
The 28-year-old midfielder adores Napoli and he holds a special bond with all the Napoli faithful, in his eyes, "There's an exceptional love between me and this city," Hamsik continued, with even more conviction ending with, "I may never move."
Marek Hamsik will enter the 2016/2017 Serie A season on par with Napoli legend, Diego Maradona. Both have scored 81 goals for club and Hamsik only one away from surpassing the legend. Touching on these statistics, the Slovak international said "I think I can overtake him," going down in history "as the Neapolitans think of Maradona practically as a God."