Former Empoli manager Marco Giampaolo has stated that he has not held talks with AC Milan in regards to their managerial position. After Siniša Mihajlovic was relieved of his duties, youth coach Cristian Brocchi took over the managerial reigns for the Rossoneri for the remainder of the Serie A season.
Giampaolo led Empoli to a mid-table finish in the Serie A this past season, finishing 10th. Before last weekend's 2-1 home win over Torino, he announced that he would be departing the Tuscan club this summer "so as not to ruin the relationship I've got here."
During an event for the Italian Association of Coaches, the Swiss said it was an honor to be linked with the club, but that there have not been any meetings between himself and the club and that nothing was definite.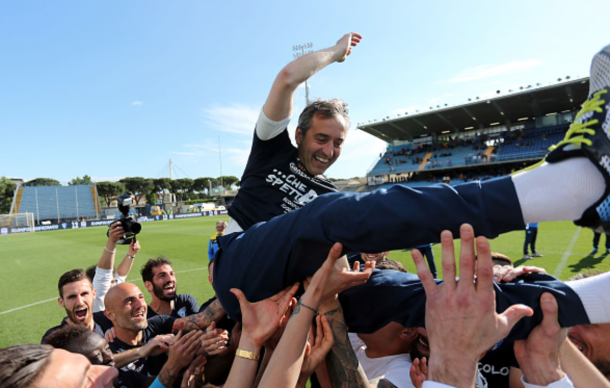 Big backing by former Milanista
Former AC Milan coach Arrigo Sacchi believes that Giampaolo is ready to coach at a big club. Sacchi is one of the biggest backers for the Swiss to take over at the San Siro. Sacchi is a close and trusted friend of Milan president Silvio Berlusconi, meaning that he has plenty of influence in the team's camp.
The 48-year-old had some nice words to say about Sacchi. He started off by saying that he was a maestro and an inspiration. He continued by saying his words of praise gratified him and that he was highly-rated by Sacchi even before because of an offer to take over the Italian under-21 team.
Should he be named manager this summer, Giampaolo has some work to do to fire the Rossoneri back to glory. Milan are currently out of European football for the third season running having finished seventh in the league and finishing runner-up to Juventus in the Coppa Italia.