Inter Milan Vice-President Javier Zanetti is sure Inter "will make sacrifices" next season to conform to FIFA's Financial Fair Play regulations next season.
The Nerazzurri's recent Serie A campaign can be viewed as a failure only acquiring Europa League football. Having failed for Champions League football the Nerazzurri also missed out on a huge amount of money which in turn is significantly lower compared to Europa League meaning this transfer market Inter need to be very particular and spend only where they need to.
In recent weeks the job of current Inter Milan coach, Roberto Mancini has been in the balance though according to Zanetti, he and Mancini, "Share a desire to improve the team to return to being protagonists" he confirmed speaking at the Alfa Romeo Museum.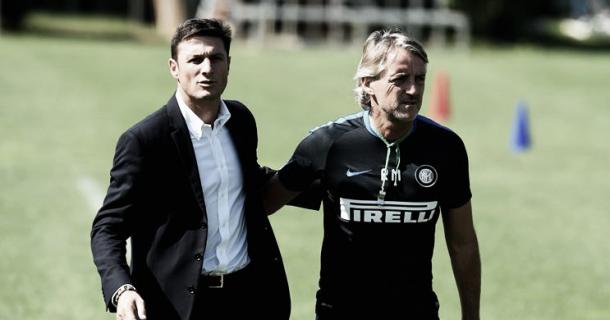 Inter Milan face tough decions on and off the field
Zanetti also touched on Inter goalkeeper Samir Handanovic who expressed many times publicaly his wish is to be playing Champions League football, another season where Inter has failed puts his time at Inter in question but Zanetti hopes, "he can do it with us."
With players futures in the balance and also having to adhere to FFP Zanetti seems to have this under control as Inter, "have to be smart and adhere to the FFP," and then, "figure out who we can bring in to strengthen our team."
​​Recent reports seem to suggest the Nerazzurri have aquired Sevilla midfielder, Ever Banega. A player Zanetti views as important, "He's an important player with quality and personality." Zanetti also hopes Banega, "Can with the Europa League for the third time in a row with us."
The Vice-President continued and believes Inter needs to change from "the base we have, and hope there's no need to sell," however in his eyes is, "very complicated because to meet our commitments we have to make sacrifices."
If that was not enough on the plate of the Inter Milan administration, Zanetti was also asked about the apparent investment by the Suning Group to which he answered, "Just the fact that there is interest from a group like that is important," he believes, "It would be something extra to help grow the club."