During a recent football leader event in Amalfi, Juventus President Beppe Marotta opened up about recent transfer speculation regarding players such as Javier Mascherano, Dani Alves, Domenico Berardi and, recently linked, Graziano Pelle.
For Juventus to even better their squad next season, Marotta believes it will "be difficult," but Juventus "always want to be more competitive," he told Sky Sports Italia.
Barcelona duo on Juventus radar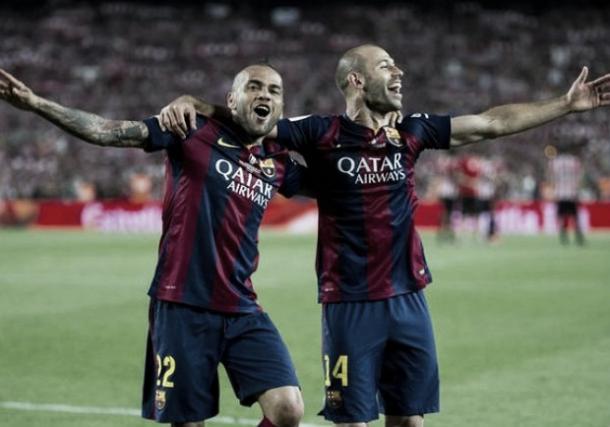 In recent days, Barcelona defender Dani Alves has been thrown into the Juventus rumour mix. However, while Marotta views Alves as an "important player," he simply stated "he isn't our property," before ending with "we'll see what we can do."
Another Barcelona player supposedly on the radar for Juventus is Javier Mascherano. The versatile midfielder/defender has been linked with the club in past windows and also with then Rafa Benitez's side, Napoli.
In a recent press-conference, Mascherano has cleared the Juventus claims as just 'rumours' leaving his future with the Catalan heavyweights in the balance. Marotta has also dubbed the rumours as "media situations," and also that Juve "don't want to sell anyone from our defence unless Martin Caceres leaves on a free transfer."
Beppe also confirms Juventus "haven't done anything," he continued, "I can't confirm or deny it. And the same goes for Andre Gomes and Miralem Pjanic."
Juventus have a verbal agreement with Sassuolo regarding the sale of 21-year-old, Domenico Berardi. The Sassuolo forwards future is in the hands of both clubs reaching an agreement. Beppe agrees, "Berardi is a great talent," he also reassured, "Juventus have the moral right of first refusal and we're going to complete this deal."
Juventus forward, Alvaro Morata's future like Berardi is also in the hands of parent club Real Madrid, "Real Madrid's buy-back clause is like the swords of Damocles," he also mentioned both clubs will, "Meet after the Champions League Final." Marotta hopes to do, "everything possible to keep him in Turin."
​​With Morata's future unsure, Marotta spoke regarding recently linked Southampton forward, Graziano Pelle, "Pelle? the only unknown in the attacking department is Morata," he finished, "Only in that case will we evaluate other investments."