Alvaro Morata's future with Juventus has been the talk of the last few days as his former employers Real Madrid - who have a buy back clause on the forward - are willing to negotiate with other big clubs circling the 23-year-old striker. However, Morata will not leave Juventus unless he has better opportunities abroad.
In a recent interview with Sporting AS, Morata views his time with I biancocelesti as, "very rewarding. I won everything that could be won in Italy, more than once. I made it into the final of the Champions League, I scored, and I developed as a player and as a person."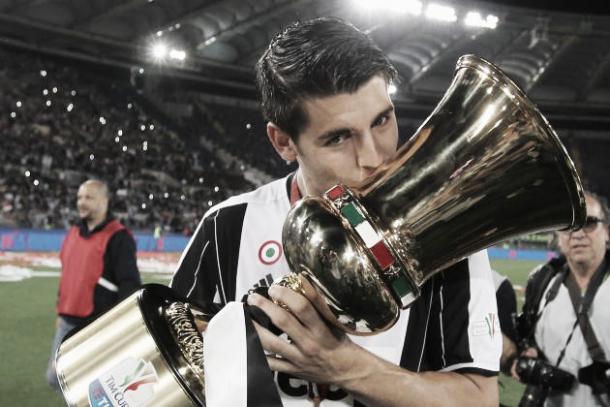 Morata believes he has changed as a player since he left Real Madrid, but more importantly in his eyes he, "proved that," he, "can play for a great team."
The continuous transfer speculation on Morata's future does not seem to have found any solid ground as teams from all over Europe have reportedly shown their interest, Arsenal, Paris Saint Germain, Manchester United, Chelsea ​to name just a few.
Being included in Vincente Del Bosque's squad for the upcoming Euro 2016 Championship, Morata hopes this can be worked out as soon as possible. He believes this time in-between then is, "awkward to be here with the national team with a phone in my hand."
​​It is is Morata's heart to win with childhood club
Morata did not hold back his love and possible return to the merengues, "Of course returning to Real Madrid is what I'd like best," he believes it's his "desire to win with Real Madrid." Real Madrid ended their season winning the Champions League for the 11th time but, a team filled with superstars, Morata wants to, "play and feel important." Thinking about next year, Morata wants to, "play for the team that gives him, "opportunities" to do that.
Strong interest has been shown from Premier League clubs and Morata feels, "tempted" and views a switch to England as, "A great achievement," given his characteristics.
Morata assures he is yet to leave Juventus, however going to the Premier League according to him, "wouldn't be a step back, on the contrary."
The Spanish international has spent two years with the Italian giants and in his eyes believes moving to the Premier League would make him a, "complete player."
Morata has played in this top flight for a number of years, beginning with Real Madrid B and moving up to the first team and then making the jump to Italy. At only 23, Morata wants to, "develop," and wants a, "good career."