Sampdoria confirmed through an official statement on Monday that Marco Giampaolo is to take over the reigns as manager on a two-year-deal.
Giampaolo, who was in charge of Empoli last term, comes in in place of Vincenzo Montella who has been appointed as manager at AC Milan.
The statement read, "UC Sampdoria communicate that they assigned to Marco Giampaolo the title of Coach responsible for the senior squad.
The Coach signed a two-year contract and will be presented to the media at 13:00 [12:00 UK time] on Wednesday, July 6, at the Press room of the sporting centre 'Gloriano Mugnaini' at Bogliasco."
48-year-old Swiss tactician Giampaolo has previously held the same role at the likes of Cagliari (twice), Catania and Brescia amongst others.
On a mission to make people forget the past
Barring his success with Empoli, Giampaolo is largely known around Italy for being somewhat of a failure and someone often fired quicker than they got themselves into the job in the first place.
At Empoli last term he was tasked with taking over from Maurizio Sarri who headed for Napoli and the azzurri were written off by many before the season was underway.
Largely using the same tactics Sarri had drilled into the team in years prior, Giampaolo led the Carlo Castellani outfit to a very respectable 10th placed finish, beating Sarri's hailed 15th placed finish the season before.
Plenty departures from Empoli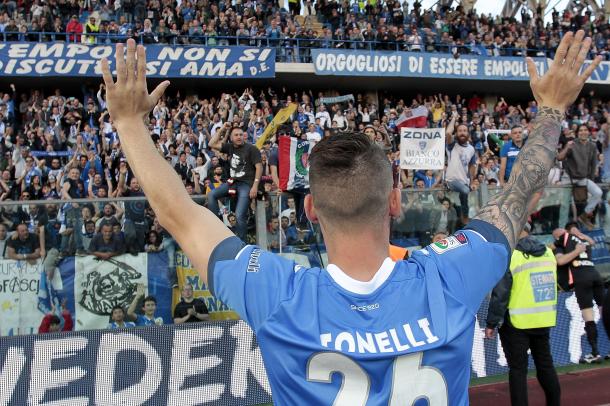 Giampaolo isn't the only one to depart from Empoli ahead of the new season with club captain Lorenzo Tonelli joining Sarri at Napoli. Loan star Piotr Zielinski won't return under the tutelage of Giovanni Martusciello with a move to Napoli all but confirmed. Martusciello also has the huge task of keeping star attraction Riccardo Saponara at the Tuscan side.
Among the departures, he has made some shrewd business however adding veterans Manuel Pasqual and Alberto Gilardino to the mix. Gilardino helped Palermo beat the drop last term and it looks like it could be the same this season but with Empoli instead.