Francesco Totti has made no secret of the fact he'd like to win the scudetto to finish his playing days a champion in a question and answers session with the Roma faithful.
The 39-year-old, who turns 40 in September is preparing for his 25th Serie A season as a professional footballer who stands as one of the last long term one club men in football.
One fan asked the question if the Giallorossi could win the scudetto this season and Totti admitted it will be "difficult" as there is "a stronger side out there" in Juventus, who've won 5 straight scudetti with little trouble along the way but "every one of us wants to win that thing."
Pre-season tomfoolery
Totti, who is due to take up a directors role within the club at the end of next season, spoke on the pre-season pranks he and teammates have played on others.
Norbert Gyomber has been one of the victims of Er Purpone and co who have inserted his name into YMCA and sung it at every given opportunity. The forward then pulled out his phone and let those gathered here one of the renditions.
"The best prank" however was played on defender Philippe Mexes, "He is afraid of toads, so one night at 11pm we snuck in his room and threw one in" he said then added that when everyone entered the room Mexes "went crazy, he wanted to jump out the window."
Totti not a social media fan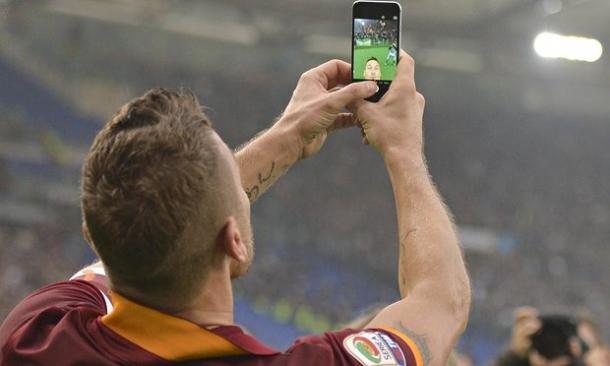 The veteran was then questioned on what he thought about social media to which he replied, "Social media? No, I'm no use." He went on to say "It was better in the days when we had to call people in phone boxes" but "nowadays if you pick your nose for a second it's immediately on Facebook and Twitter"
Totti also spoke about not visiting one of the main streets in Roma in via del Coros "for over 10 years."
"It's not that I don't want to go," he insisted "but I'd end up standing there in Piazza del Popolo to sign autographs and take photos. If I brought a cardboard cut-out of myself, it'd be the same thing" he joked.
"In a way I'm happy, as I don't have to go shopping with (wife) Ilary. I can send her on her own."