After missing out on the opportunity to represent Italy at the European Championship this year, Sebastian Giovinco congratulated Italy on a "great Euro 2016" and stated that he still believes he is "ready" for another go with the national team.
After a sizzling debut season with Toronto FC and yet another impressive season of late, fans across the United States and afar were left stunned as Giovinco got the snub from former coach Antonio Conte.
Giovinco attended the ESPY Awards and walked away with the coveted prize and was left stunned as previous winners such as, Cristiano Ronaldo, Lebron James and Novak Djokovic also graced his position.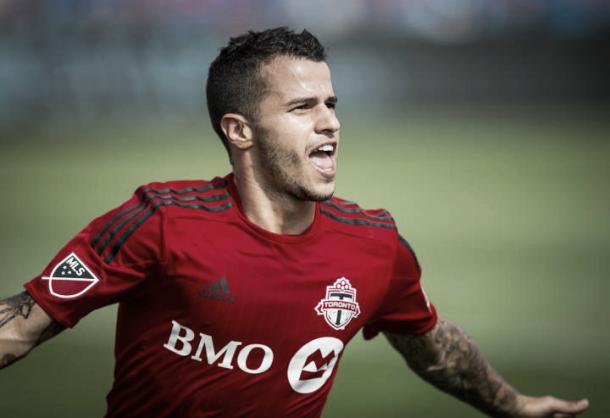 The striker views his non-selection as "a shame", however, Giovinco was lucky to miss the infamous penalty shoot-out loss against Germany. "I saw Italy and they played a great Euro 2016. They only lost on penalties against the world's strongest teams, Germany, and we know that's a lottery, especially when you're playing for a semi-final," he said.
Giovinco strongly believes his snub should pass over as he is not "thinking about that now" and acknowledges "it's in the past".
Can he get back in?
Antonio Conte has officially taken the reigns of Chelsea, incoming Azzurri coach, Giampiero Ventura, Giovinco views his appointment as a blessing as he is not giving up on a possible call-up. "I most certainly want a place in the Nazionale now that the new cycle is starting. I'm ready".
"I met with Ventura, we crossed paths and had a few chats, but we never talked in detail about football" he said.
The MLS was amongst the reason of Giovinco's snub but he strongly believes "it's on the rise and it can keep on developing". Giovinco reflects on his time in the MLS and recommends Italian players who are thinking of making the leap to the MLS to consider this option as he views it as a "nice experience" and a "beautiful country that gives you a lot".