Mauro Icardi has himself submitted a surprise twist to his personal transfer saga, with the Inter Milan striker revealing that he and his family love it in Milan, contrary to reports that he's chasing a move away from the club.
Icardi says that he'll be remaining at Inter
Speaking to reporters Icardi said; "I'm going to be here until 2019," before adding "I have a contract and we love it in Milan. The whole family wants to stay. It dosen't distract me, I've been at Inter for three years and it's been the same thing every season. I'm an Interiesta."
This came as a surprise given that Icardi's agent and wife, Wanda Nara has made herself unpopular in the dark blue part of Milano with controversial statements under the mercato. Just yesterday morning, she unfurled a cryptic twitter message that she was in London, which could mean she was flirting around with Arsenal. But now the Inter captain's comments after Inter's 2-1 win over Real Salt Lake have doused the fire somewhat.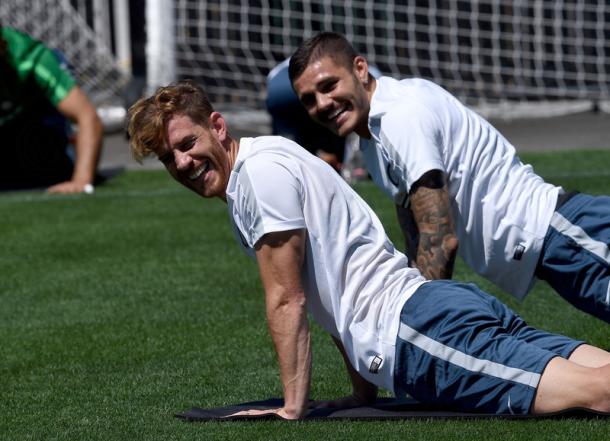 What happens next?
Icardi signed a new four-year contract last summer and the club have made it clear that only a huge offer could tempt them to sell. So the comments from Icardi could ensure that Inter fans get to keep the Argentine darling another season. Piero Ausilio has also been clear that Icardi is going no where under the transfer market. This is also bad news for Arsenal and Arsène Wenger, who have been reportedly chasing the striker for some time. However, some may see it as an attempt to not burn bridges from Icardi, rather than ruling out any move.
If Inter Milan lose the Argentine they'll be left with Rodrigo Palacio, Stevan Jovetić and Eder Citadin Martins. Last season Icardi scored 16 goals in 32 games, with the other mentioned forwards scoring nine goals in 41 games combined. That would mean Nerazzurri would have no notorious goalscorers such as Icardi has been in recent seasons. Also, Palacio turns 35 in February and it is rumored that Jovetic is on the way out of the San Siro, ever since Ever Banega took over his number 10 shirt before the season.