AS Roma coach Luciano Spalletti will be keeping the most sought-after centre-back in the Serie A Kostas Manolas alongside Bosnia-Herzegovina forward Edin Dzeko.
Spalletti knows Manolas is a good player however according to the manager, "there are others."
Soon after Luciano Spalletti took the reins at Roma the defence was one of the biggest improvements and it is no lie after the 2015/16 Serie A campaign Manolas was one of the most wanted defenders in the game.
As Manolas' agent worked around the clock with both Roma and other offers, Spalletti assures there is no rush or pressures, "Anyone, especially you who are here, can see that there is no pressures" said Spalletti.
After numerous speculations, Spalletti and Manolas seem to be on the same page, according to the coach, "The lad's intentions are very clear, there is no pressure."
"Talking about this is so much risk creating an issue that was not there before. Manolas is staying with us" he said.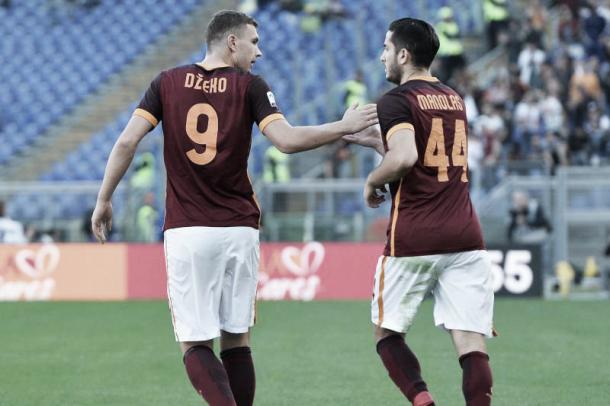 Dzeko found it difficult to jump from the English Premier League to the Italian top flight. Dzeko joined Roma on loan making 31 appearances and scoring only 8 goals.
Edin Dzeko will fight for his place
In Spalletti's eyes the poor return of goals is in the past and Dzeko is "among those who want to vindicate himself." Spalletti believes the 30 year-old striker will be able to give his side "his total contribution" as "last year it happened at times, at others it didn't, but his intentions are healthy and nice to watch."
As Roma continue their pre-season tour of Boston, Spalletti sees his boys in good shape and "they're all looking forward to starting again."
What has pleased Spalletti is "almost everyone has done their homework" and "We're happy they're still with us."
In Spalletti's world today "all of the great clubs go out and conquer, promoting their brand around the world" therefore, "our owners are American, so it follows that we must work here. There are no alternatives, this must be done."