Currently jobless Frank De Boer' agent Guido Albers has distanced his client from Inter Milan.
The Dutchman departed Ajax at the end of the 15/16 season after six years in charge and two successive years without an Eredivisie crown. In his spell with the Dutch giants whom he spent 11 years as a player with won five items of silverware in six years in four league titles and one Johann Cruijff shield.
Albers told Voetbal International "We haven't heard anything from Inter" and insisted the 18 time Serie A champions are a "great team" and added "all we can do is wait."
Prior to Claude Puel's appointment at Southampton, the 46-year-old had been linked with taking over the managerial post at St Mary's.
Mancini about to leave?
Rumours persist about the immediate future of current nerazzzurri boss Roberto Mancini who is not keeping any secret in the fact that he is unhappy with the way new owners Suning and other board members wish to approach the market.
Reports first broke that Mancini was on the verge of exiting the club, whom he is in his second managerial spell with shortly before Inter took on Paris Saint Germain in the International Champions Cup in the USA Inter fell 3-1 to the French giants and Mancini didn't hold back in his post-match press conference admitting "Nothing has changed compared to two days ago, the situation is normal," said Mancini. "We'll see over the next few days. My meeting with Thohir? There's nothing to clarify on the subject."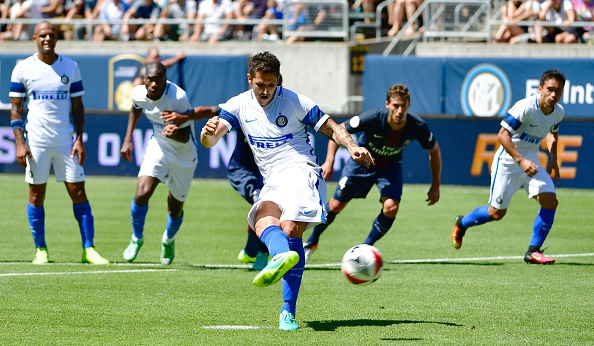 Club vice president Javier Zanetti was tight lipped when asked what the future held for Mancini and Inter "At the moment Mancini is our Coach, and out of respect for him and his work we can't talk about another Coach."