After Inter Milan reached a deal with Chinese investors Suning Commerce Group the footballing world was lead to believe it was the beginning of a new era for the club. However, unhappiness with coach Roberto Mancini with the club's investments this season lead to speculation of coach Mancio's future with the club.
Inter Milan are currently in the United States for preseason and after their 1-1 draw with Estudiantes, Mancini faced the press and assured there was no truth to the speculation of his future.
Mancini assures he and the club are on good terms
Mancini was quick to attack the media on fabricating a story, "you're the ones who talked about a resignation not me," said Mancini.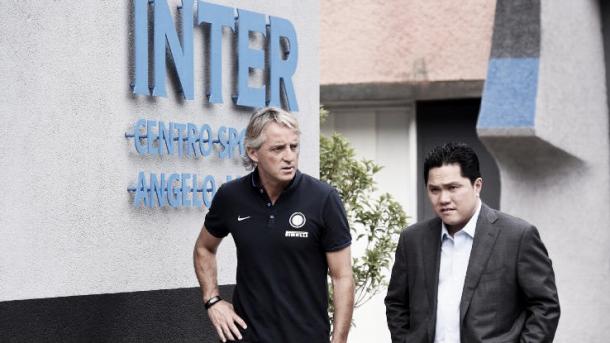 Mancini continued his tirade and made clear his relationship with the club is fine, "I never said that there was tension."
Roberto Mancini made clear he and his team have their minds only on preseason, "I'm here and I'm working to improve Inter. I'm giving it everything; I've got to make that happen."
After a poor 1-1 draw with Estudiantes Mancini was annoyed at the availability of his players, "It's a shame that we don't have many players available. It's a problem, because so far the pre-season games have been tiring.
Tonight again we haven't been able to make many changes after playing well for half an hour, and in the second half we ran out of steam. I had nobody on the bench."
Mancini hopes the casualties do not fall through to when the 2015/16 Serie A campaign begins however he "can't say whether these games could make the championship harder."
The former Manchester City boss continued his positive attitude for his team as he only wants to do his "best for Inter because I want to make sure the team is ready by the time the season kicks off. I'm not interested in any of the other talk."
Mancini talks mercato
As Inter's transfer market has been somewhat slow, Inter have been reported to want Lazio's Antonio Candreva. Roberto Mancini said: "Candreva is an Inter player not an Inter one."
Mauro Icardi's future has also been heavily speculated however, Inter President Erick Thohir said his captain is "unsellable," Mancini said: "I'm the Coach and he's the president. I'm not meant to be happy about the things that he says."