Roma's Juan Iturbe has revealed that he is ready to impress Luciano Spalletti in a bid to win back his place and turn his La Maggica career around.
The Paraguay-International was apart of a £20million move from Hellas Verona in 2014, but unfortunately fell out-of-favour under old boss, Rudi Garcia shortly after his first season in Rome.
Iturbe joined Bournemouth in January to revitalise his career, which arguably had come to a stand-still at Roma. Unfortunately for the winger, he could only manage two Premier League appearances on England's south-coast.
But with the huge potential that Iturbe once carried, Spalletti will no doubt give the Paraguayan a chance to shine.
Iturbe's plan to impress
Speaking to LaRoma24, Iturbe told that he will take it step-by-step in his desperation to convince Spalletti that he has a future under him.
Iturbe revealed that he'll "start with a low profile" before stepping up his bid to secure first-team football. The 23-year-old is open to improving, and is keen to take in any advice that Spalletti has to offer: "I know I must improve in my decisions, but I'm more relaxed now and I can do the things that the Coach asks of me in training."
The winger ended by calling Spalletti a "tough guy" but that he wants "to follow him."
The Paraguayan further suggested that with the constant support of his team-mates and fans despite his rocky start, he can fulfil his potential: "The teammates are also being very helpful, and I've always felt the warmth of the fans."
The men who stand in Iturbe's way – difficult to breakthrough
Formally known as a winger, Iturbe will have to beat off competition from Stephan El Shaarawy, Diego Perrotti and make-shift striker, Mohamed Salah.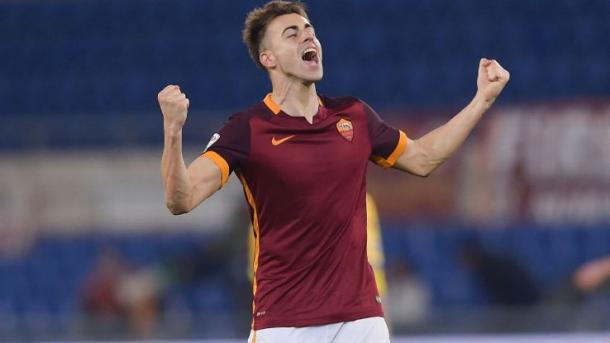 The challenge El Shaarawy in particular will be a difficult one for the Paraguay-International. El Shaarawy joined Roma this summer following a successful loan spell under Spalletti. The 23-year-old chipped in with eight goals in 18 appearances as apart of Lupi's on-going league unbeaten run from January 30, the day in which El Shaarawy scored on his debut.
Salah provides goals in the Roma side after finding the next 15 times in 32 outtings last term. If Iturbe is to target a place in the side at Salah's expense, Spalletti may find it hard to leave out a man who simply scores goals.
Out of the three, Perrotti is arguably the most vulnerable. Although El Shaarawy joined mid-way through the season, he was still able to beat Perrotti's season total of 17 appearances albeit by one outting. Despite Perrotti notching up the fewest appearances out of the wingers, the 28-year-old stats show the players' capability with three goals and seven assists.