Federico Fazio has said that Roma are "the most important club in Italy" following his arrival from Tottenham Hotspur last week.
The centre-back spent last season on loan at Sevilla after facing an unsteady time at White Hart Lane since joining in 2014, but Fazio joins his friend Diego Perrotti at the Stadio Olimpico, he suggested that he will settle in to life in Rome quickly.
Adapting to life quickly is what the 29-year-old will have to do as he is expected to be thrown in at the deep-end as the defender was drafted in due to the injury of Antonio Rudiger. Fazio may feature in Roma's difficult first-leg Champions League qualifer against Porto at the Estádio do Dragão.
The Walter Samuel link
The Argentine spoke with confidence following his arrival in the Italian capital revealing that "the Italian championship should be the best to fit my skills" as Fazio says that his strengths are he "always fights" and is "competitive." He added that "he always wants to win" and followed in the foot-steps of Perrotti and Mohamed Salah by stating that they'll fight for a title "let's hope we can snatch a title as early as this year."
The 29-year-old proceeded to say that "working in Italy" was one of his "objectives" and the defender drew comparisons to ex-Roma star Walter Samuel because he is a player that Fazio drew inspiration from: "A player I always drew inspiration from is Samuel. As a Boca supporter, I followed him when he moved to Roma."
He revealed that his Italian dream is perfect with a club like Roma as it "is a dream come true" as he believes La Maggica are "the most important club in Italy" and playing in front of the Roma fans is something he "can't wait" to do because "it's a source of enormous pride."
Good friend Perotti
With Fazio experiencing a tough time as of late in his career, the opportunity to play with his "dear friend" Perotti can ony help the player get back to his best.
Fazio revealed that Perotti played a big part in why he wanted to join Lupi because he told Fazio "he'd been enchanted by the team and the fans, and that Roma are a great club."
The special friendship goes back to the pair's days at Sevilla which Fazio says "being able to share moments with him, moments of sport on a football pitch" is something that makes him "proud."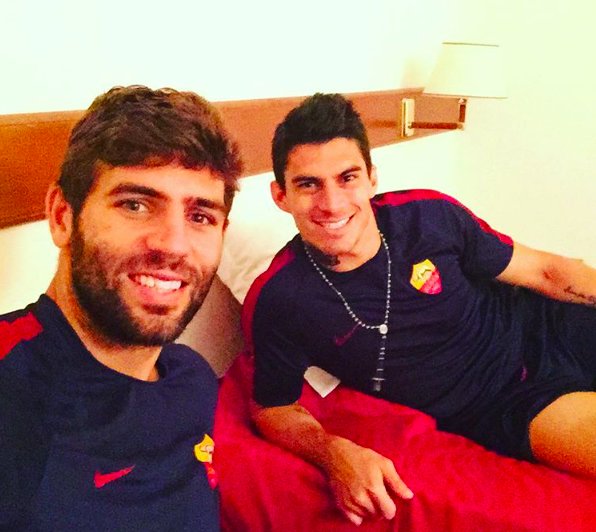 Fazio concluded by suggesting he is lucky to have a friend of seven years by his side: "We used to tell each other that in modern football it's unlikely that you can spend so long at a club, never mind together with another player."