The 35-year-old Spanish striker has been fantastic the past few years and is just getting better whilst he is ageing.

The Athletic Club forward has been in fine form this season, netting 27 times in 41 appearances. Aritz Aduriz has been a vital player for Athletic, a team that has a strict rule of having only Basque players in their team.
Life before Athletic
Aritz Aduriz has been playing his football only in Spain, starting his career at Aurrera in 1999. In his first season, at the age of 18, he managed eight goals in 25 appearances. The side played in the Segunda Division B division and they finished fifth in their group, just four points away from qualifying for the Second Division. But it was an impressive season for Aduriz who was just a youngster at that time.
The year later, he joined Athletic Club's reserve team and proved to everyone he had natural talent. This allowed him to be promoted to the first team during the 2002 season, where he only made three appearances for the Basque side. During the 2003-04 season, he was sent to Burgos CF on loan for him to gain more experience elsewhere. Once again he was fantastic netting in 16 times in 36 appearances, helping Burgos finish fifth in the league just three points away from promotion.
Aduriz joined Valladolid after his loan at Burgos, managing to continue his prolific record managing 20 goals in 46 appearances. He returned to Athletic Club, for three seasons, scoring 22 times. However, it wasn't good enough with Fernando Llorente on fine form keeping Aduriz out of the first team line-up. He had a two season long spells at Mallorca and Valencia, managing to keep his goal scoring record up but not consistently. Finally in 2012, Aduriz returned to Athletic Club and has proved a big point to the fans and mainly the club.
Fine wine
Aritz Aduriz is like fine wine, definitely improves while ageing. With football these days, players need to be young and fast but Aduriz has proved this wrong. A month ago, Aduriz scored a memorable away goal against Marseille in the Europa League. He also scored few days ago, giving his side a vital away goal during a 2-1 defeat against Valencia which helped the Basque side qualify for the quarter-finals.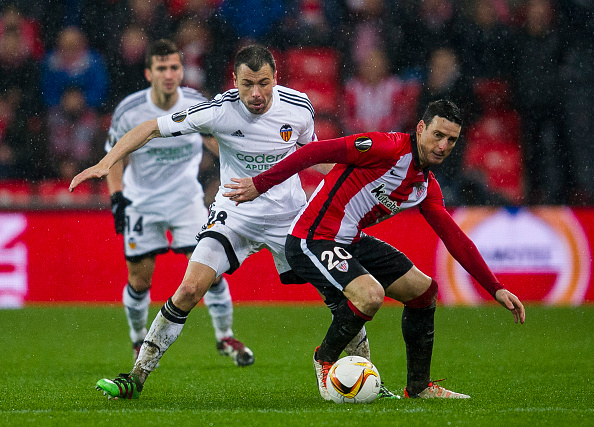 Athletic's manager Ernesto Valverde mentioned few months into the season: "We have to hope that Barcelona don't sign Aduriz because he represents the culmination of the way we play." Aduriz's stats kept getting interesting, his goal record increasing whilst ageing into his early 30's.
When Aduriz returned to Athletic Club for the third time, he managed 18 goals in competitions during the 2012-13 and 2013-14 seasons. In his first season back he was the ninth top goal scorer in La Liga and in the 2013-14 campaign he was the eight top goal scorer ahead of Gareth Bale and Pedro.
Last season, Aduriz smashed his individual record by eight goals. He netted 26 times all season, with 18 coming in La Liga play. Despite the club finishing seventh last season, the Spaniard scored more league goals than Karim Benzema and Luis Suarez. He became the club's top goal scorer three years running, four times in the club's history.
Aritz Aduriz turned 35-years-old last month and many experts felt that he wouldn't be able to keep his form from the past seasons up. But once again he has proved everyone wrong by scoring 31 goals in all competitions and 17 in the league with still two months of the season left to go.
The man that Spain need
The veteran has 30 goals this season and surely Vicente del Bosque has to pick him for the Euro 2016. Aduriz spoke about recall to the Spain squad: "Age is just a number. What matters is the dream, and I have one." He also said, "I'll try to bring everything I can and do the same as I do with Athletic. Being in the Euros will depend on the coach."
Aritz Aduriz has been picked in the squad for Spain's friendly matches against Italy and Romania. A big chance for the Athletic forward to impress del Bosque, just a few months before the Euros. Aduriz is still quick, strong and an all-round striker not just a target man, so del Bosque will have to have build a team around Aduriz's strength.
Aduriz has only completed one international cap for Spain, against Lithuania which came six years ago. Embarrassing stat for a player who knows where the back of the net is, has score at least 15 goals per season for the past few years. Spain had a poor World Cup in 2014 at Brazil, only winning one out of three matches in the group stage and were criticised a lot for not bringing an attacking option. Hopefully del Bosque doesn't make the same mistake and actually picks Aduriz to be involved in the Spain squad for the Euros.
Most likely Diego Costa and Paco Alcacer will be picked for the Euros, but Aduriz has been on better form than the pair and has more goals than them. The forward has eight more league goals than Alcacer and seven more than Costa. If Aduriz isn't picked for the Spain squad, there will be a lot of questions raised on what else he has to do to be picked.
What else?
Personally Aduriz is one of the best strikers for the past few years, no other striker at the age of 35-years-old could score 30 goals in all competitions. What makes it sound more better, is the fact that he plays for a side that are only allowed to play Basque players and it's a team that's filled with decent players but not world class.
Athletic have been a fantastic side to watch, have done really well in the past few years. From sending Manchester United out of the Europa league in a 5-3 win over two legs during the 2011/12 season, to finishing as runners up in the Copa del Rey and winning the Spanish Super Cup in 2015 which Aduriz played a big role in.
Aduriz's style of play is very interesting, from an all-round striker to one of the best poachers around. A player who is so sharp, can anticipate literally anything and can make the opponents life really hard.
A guaranteed winner in the air, simply a natural finisher and hardly misses his chances. A strong player too, so he can be useful in games as a target-man if needed. Aduriz isn't used as a target man, due to Athletic's philosophy of quick and attractive football, which still gets the best out of the 35-year-old.