An own goal from Ivan Rakitic and a Santi Mina strike just before half time, sealed all three points for Valencia which left a hopeless Barcelona side with too much work to do in the second half. Barcelona were dominating the game from the first second but lacked everything in the opponent's box.
Chances were made easily in the home side, but Diego Alves's fantastic saves kept Valencia in the game. Lionel Messi pulled back a goal in the second half, but Valencia defended superbly to look after the lead.
Solid defending from the back
Diego Alves (9/10) – The Brazilian was immense today, made sure Valencia stayed in the game since the first minute. Despite conceding a goal to Lionel Messi, the goalkeeper shouldn't be too frustrated as his side picked up the key three points.
Antonio Barragan (6/10) – Found it difficult to cope defending on the flanks, with midfielder Rodrigo not providing much help. The full-back picked up an early yellow card, which meant he had to be perfect to not commit any fouls which would lead to him being sent off. But Barragan made sure Neymar didn't receive any clear chances and also created a few attacks too.
Shkodran Mustafi (8/10) – Mustafi was a rock at the heart of defence, completing the most successful tackles from the Valencia side. He also completed the most clearances from all players on the pitch and made sure his side's defence was solid. Suarez couldn't do too much with Mustafi closely marking him.
Aymen Abdennour (8/10) – Abdennour was fantastic. It was arguably his best match against Barcelona since joining Valencia last summer. He completed a few vital tackles and put his body on the line too. The Tunisian international made sure Barcelona's strike force couldn't score more than just the goal.
Guilherme Siqueira (7/10) – Siqueira played a vital part in Valencia's cross, with his low cross being deflected by Ivan Rakitic and going into Barcelona's net without Claudio Bravo getting the chance to block it. Siqueira was impressive defensively and caused a few problems to Barcelona's defence too.
Midfield trio on track
Daniel Parejo (7/10) – Completed the vital assist towards Santi Mina's goal and made the most passes from the away side. Was pulling all the strings in midfield, Barcelona found it very hard to keep tabs on him. Had the chance to complete the game by extending the lead to 3-1 for Valencia but didn't do well with it. Other than that he was impressive once again.
Javi Fuego (7/10) – After the game you still wouldn't believe Fuego is 32-years-old, as he was a key player in midfield. The captain put on another class performance and made the most interceptions for his side.
Enzo Perez (7/10) – Was impressive once again in midfield, and could say that he was Valencia's best player on the night. Perez made sure everything was going well in the centre of the pitch and didn't do anything wrong. The midfielder was subbed off in the 74th minute as Valencia wanted to play defensive to hold on to the lead.
Attackers were causing problems
Andre Gomes (7/10) – The Portuguese was fantastic in the centre of midfield and played a key part to Valencia's goal. Kept everything ticking in the middle of the pitch for the away side and caused a lot of problems for the opponents.
Rodrigo (6/10) – Caused a few problems on the wings, but didn't offer much to Barragan when it came to defending. Was lucky that Barcelona didn't punish Valencia from this mistake, other than that Rodrigo completed the job as a winger. Rodrigo made Jordi Alba's task of defending very hard.
Santi Mina (7/10) – Did his duty by scoring a vital goal before half time, which made it difficult for Barcelona to complete a comeback. Mina completed a good shift of tracking back and helping the rest of the team in other positions. The striker was replaced by Alcacer half way through the second half.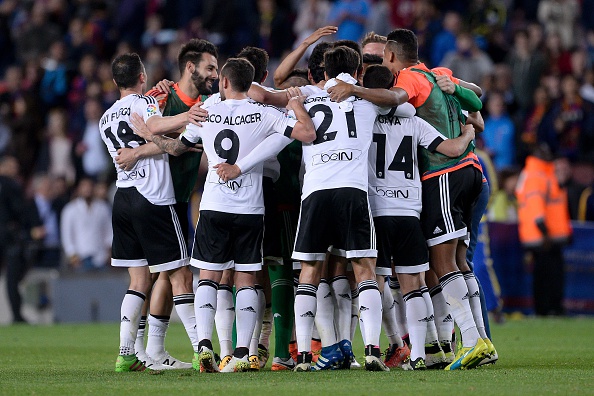 Substitutes
Francisco "Paco" Alcacer (5.5/10) – Didn't do much once entering the pitch, but had a big chance to make it 3-1 to Valencia few minutes before full-time. It seemed like he couldn't sort his feet out and convert the chance from six yards.
Joao Cancelo (5.5/10) – Completed his job by making sure that Valencia held on to the lead until the final whistle. Was brought on for Perez, clearly showing Ayestaran didn't want his side to drop any points with just 15 minutes of normal time to play.
Jose Gaya (N/A) – Replaced winger Rodrigo for the final few minutes of the game.