Valencia and Eibar will face off at La Mestalla midweek on the 34th matchday. Eibar is currently ninth with only one point ahead on Valencia who is currently twelfth.
After a horrific first leg of the season and the appointment of Gary Neville as coach, who also failed as his predecessor Nuno, the club now wants to save the season with a good finish. Current coach Pako Ayestaran has managed two wins in the last two matches against Sevilla and Barcelona.
On the other hand, Eibar has had another good season after finishing first in Segunda B 2013/2014. In their first ever La Liga they finished 16th and got even better in the following year with finishing tenth. The club proceeded and is now on a good way to steady themself in the top flight.
Valencia's form
Also Ayestaran sees a strong opponent in Eibar: "Against Eibar it will be difficult, they are above us in the table." The Valencia manager also knows that Eibar likes to buckle down on defense away from home. But Ayestaran says that he knows his players "have been professional and responsible" and he adds that he has seen this in their last two matches.
His team, however, is currently still not in a good form overall in this campaign. But with two wins against Sevilla and Barcelona the team has had moer confidence and an important six points to be in midtable come seasons end.
An important factor in the surpising win over the league leader was definitely Diego Alves, who had a great day between the posts. The offense created less chances but scored two goals with a lucky own-goal by Ivan Rakitic in the opening stage and a finish by Santi Mina close before half-time whistle. The defence stood good even after the 1-2 by Lionel Messi - and goalkeeper Alves came out to hero during the match.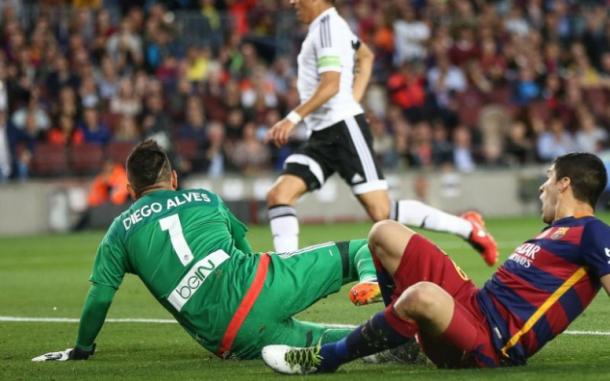 Eibar's form
Eibar is actually profiting from a good first leg in the season because in the last ten matches, José Luis Mendilibar's team has only won once, while drawing twice and losing six matches. The victory came against Real Sociedad on the last matchday which also gave the visiting players their confidence back as they hope to finish the season in the top ten.
Eibar won the last match with 2-1 and came back from an early 0-1-deficit. David Zurutuza scored for the guests in the seventh minute, but Sergi Enrich (32') and Gonzalo Escalante (58') thwarted Sociedad's plans.
Prediction
Because of the home advantage and the last couple of matches from Ayestaran's Valencia, the chance to extend their little run with a win against Eibar is definitely there.
Nevertheless, Eibar is a strong opponent and should not be underestimated. It will be a match on eye level with two teams who are close to each other in table looking forward to finish the season in the top 10 position in the league table.