Getafe will host promoted team Sporting Gijón on the 37th matchday of La Liga in the Coliseum Alfonso Pérez. For both teams, this match is maybe the most important one in the whole season. Getafe and Gijón are currently in relegation spots and have (with Rayo Vallecano) the same amount of points. So, the winner of this match might have the chance to stay up and send the other one down to the Segunda División.
The teams will also keep their eyes on the matches: Sevilla against Granada (16th placed with 36 points) and Real Sociedad against Rayo Vallecano (17th placed with 35 points). So, La Liga has a heart-stopping final in the relegation battle.
Just a quick overview over the last matchday relating to this battle: Getafe will face Betis Sevilla, Granada has to host Barcelona, Rayo Vallecano will play against already relegated Levante and Gijón will play against Villarreal at home.
Do or die
"Do or die" - that's the slogan both teams will pursue in this match. The winner will have a very good starting position on the last matchday and can make a big step forward to save the staying up.
Getafe and Gijón are very equal this season and so the tension and dramatic will be extra strong in their meeting. Both won nine matches, drawn eight and lost 19. The only advantage for Gijón is the goal difference.
Ups and downs
The form of both teams shows their stuttering season. The Azulones won just as the Rojiblancos as two of their last five meetings, drawn once and lost twice. Getafe got wins against Real Sociedad (2-1) and Deportivo la Coruña (2-0), Gijón won against Sevilla (2-1) and Eibar (2-0). A hammering the teams took against Real Madrid (Getafe lost 1-5) and Barcelona (Gijón lost 0-6). Both earned a point against Valencia (Getafe played 2-2) and Las Palmas (Gijón played 1-1).
Key players
There will definitely be players of both sides, who could decide this match just by themselves. On Getafe's side are Pablo Sarabia and Álvaro Vázquez. Together, they have twelve goals and ten assists and have been included in about 60 per cent of Getafe's 35 goals this season.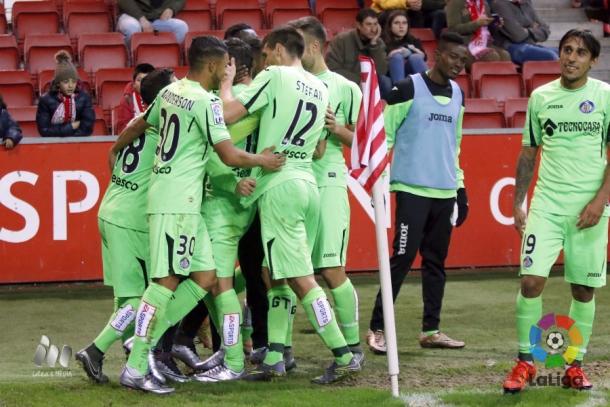 On the other side, Tony Sanabria and Castro Carmona are the saviour of Gijón and had a massive impact that Gijón can keep the wolf from the door. Together they scored 19 goals of Gijón's 37 this season.
Prediction
Because both teams are on the same level at the moment, this match will just be decided by solo actions from the players, which will shine out and give more than 100 per cent to get their team out of the relegation zone. Maybe Getafe will have a little advantage, because of the fact that Gijón won only one away match in the last ten, but also Getafe is not a might at home and won twice and anyway drawn fourth in the last ten home matches.