Atletico Madrid threw away a lead, and the league title, losing 2-1 away to Levante on Sunday.
Perhaps the pressure of not having Diego Simeone on the sideline combined with having the Champions League Final on their mind all added up to this shocking result. Certainly Simeone adds a calming influence on the touchline, but once Atlético Madrid scored, they rested on their laurels. And once Levante equalised, they played with a lot of nerves.
After an emotional victory in midweek against Bayern Munich, both Antoine Griezmann and Diego Godin started on the bench. Perhaps this was a sign of things to come, as they felt as though they were good enough to beat Levante with their starters on the bench, but they learned the hard way that they couldn't afford to take any opposition lightly at this stage.
Positive start for the Rojiblancos
It was a hectic matchday which saw every team in La Liga in action play at the same time, including all of the top three teams. As such, Atlético could only focus on their match and not get distracted by how Real Madrid and Barcelona were doing.
If they wanted to get off to a good start, they did just that when Fernando Torres opened the scoring in just the second minute on a beautiful ball in by Koke. Even with Antoine Griezmann on the bench, Torres has become a handful for opposing defenders to deal with. Ever since he rejoined Atlético Madrid last year, he has become one of the most clinical strikers in the world yet again, and he clearly feels at home in the Spanish capital.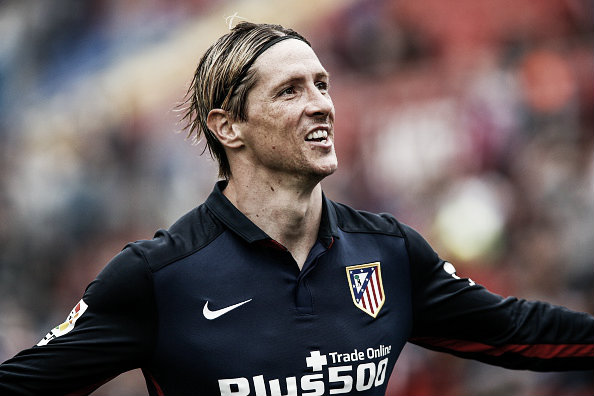 With the Levante fans already knowing their team's fate next season, Ciutat de Valencia was practically half empty. The away fans were the only ones who were audible for most of the match, and they exploded into life after Torres' opening goal.
Pressure by Levante
Levante held possession for most of the match, but they were clearly frustrated in attempting to break down Atlético's defensive line. Any time they had someone moving forward, two players began swarming them, and the shots they did take were forced from a bad angle.
Yet despite having nothing to play for and conceding an opening goal, Levante still came forward and tried to push for an equalizer. They finally got one in the 30th minute when Victor Casadesús headed home a cross from Mauricio Cuero. You could hardly argue that they didn't deserve it, as most of the chances following Torres' goal came from them.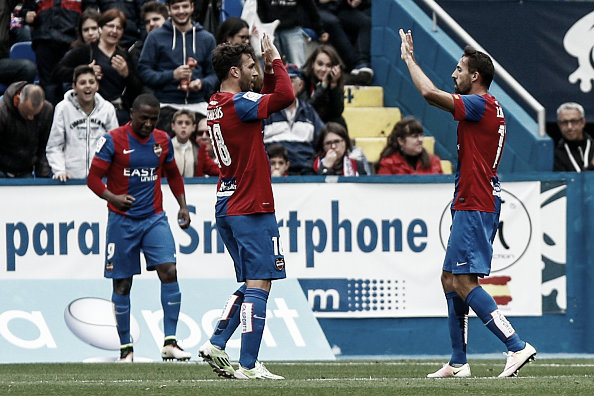 As part of a three-match ban for throwing a ball onto the pitch while the opposition was attacking, Simeone was absent from the touchline and the broadcast crew couldn't resist showing him at every chance. Of course, that didn't help Atlético's cause as the pressure for them to score kept mounting. At the end of the first half, Atlético were the only top three team to not have the lead.
Fernando Torres injury scare
But after they had made two substitutions before the start of the second half, they thought they might be forced into making one right after that as Torres had to be stretchered off. It was an ugly collision with David Navarro, and he even had blood coming down his face.
With lots of important fixtures coming up, they can ill afford to lose a player like Torres for an extended period of time. But thankfully, after playing with 10 men for a short part of the match, Torres came back into the game.
Chances from both sides
Levante's best chance of the second half came from a José Luis Morales free kick after José Giménez took him down just outside the box. Had he not taken him down, Casadesús would've been through on goal, but it was a very nervy moment for the Rojiblancos.
Suddenly, with Atlético pushing for a goal, it was Levante who became tough to break down. Griezmann was through on goal in the 73rd minute and would've normally buried it given the opportunity, but goalkeeper Diego Mariño stood tall and kept the shot out. Atlético would win a close free kick of their own but they could make nothing of it.
Atlético had more chances, specifically when they thought Juanfran had committed a handball in the box, but they did not get the call.
The final dagger
Once Giuseppe Rossi came on, it was a sign that Levante was going for the win. In the 90th minute, they went on a very quick counter and Rossi buried the chance, which was the final dagger in Atlético Madrid's hearts. Simeone certainly couldn't bear to see any more as he left the pitch early.
At least had they held on to the draw, Atlético would've had a faint chance of winning the title next week, but that late goal mathematically eliminates them from the race. It also drops them to third behind Barcelona and Real Madrid after they both took care of business.
This was not at all the result Atlético were hoping for, especially considering they were playing the last place team who had nothing left to play for. Heading into the final matchday, they might be better off resting their starters and focusing on the Champions League Final.