Barcleona have beaten Sevilla in the Copa del Rey Final as they achieve the domestic double. While it isn't as special as last year's win, when they beat Athletic Bilbao 5-2 to put an exclamation mark on a treble-winning season, it's still impressive nonetheless. It also proves how dominant a force they are and will be, given that their lineup in this cup final was identical to the one they fielded last year.
Given that Sevilla had just won the Europa League a few days ago, this final was always going to be harder for Barcelona than last year. They had to overcome Javier Mascherano's sending off and Luis Suarez's injury to eventually see this one through in extra time.
It was a hard-fought, and well-earned, victory that will leave Barca fans celebrating well into the night.
Champion vs. champion
This match was billed as one between the La Liga champions (Barcelona) and the Europa League champions (Sevilla). They started the season against each other with those distinctions in the UEFA Super Cup, and would end the season with those distinctions in the Copa del Rey Final. So while Barcelona was favored to win, Sevilla was equally motivated to capture a second title this year and overcome their rivals.
Sevilla started out the match positively, as they didn't sit back, defend, and invite pressure like a lot of Barcelona's opponents. Rather, they created chances of their own, while not letting Barca get a good look on goal.
Down to 10 men
After an uneventful first 35 minutes, referee Carlos del Cerro Grande made a bold call that changed the complexion of the game. With Kevin Gameiro through on goal, Javier Mascherano hauled him down by his jersey on a clear goalscoring opportunity.
Rather than award the free kick and show him a yellow, del Cerro gave Mascherano a straight red and give Sevilla a man advantage for the majority of the game.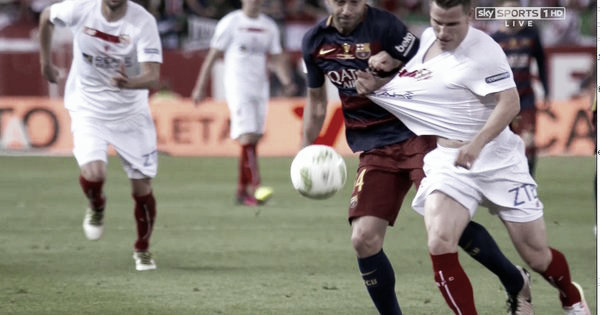 Injury scare
Things went from bad to worse for Barcelona in the second half. At one point, Lionel Messi collided with Daniel Carrico and he laid on the pitch. The medical staff attended to his side, but he returned to the game shortly.
His teammate, Luis Suarez, wouldn't be so lucky. On that same sequence, Suarez was seen clutching his hamstring and he lay down on the pitch for a while as well. However, he would not return to the game as Rafinha came on for him. Suarez would not only be out for the rest of the game, but potentially for the Copa America as well.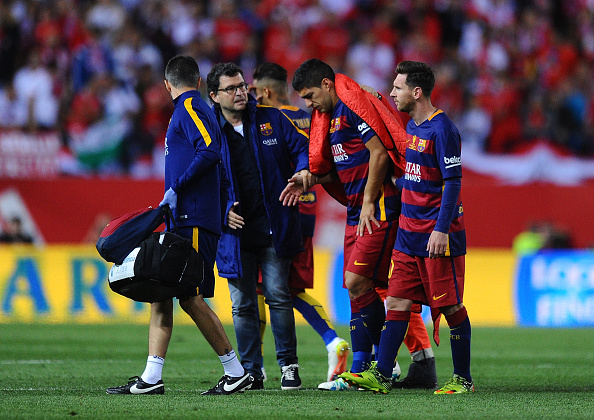 Change in momentum
With Barca's leading scorer out of the game in addition to having the man advantage, Sevilla could smell blood. They created plenty of chances and tried to capitalize on their advantage, but Barcelona held firm.
They entered the match with an impressive scoreless streak, having scored 25 times before conceding their last goal, so it was always going to be tough to break them down. Plus, with only 10 men, they couldn't risk leaving themselves open, so they had to defend and hope for extra time.
Level playing field
Just before this match was headed for extra time, Ever Banega wiped out Sevilla's man advantage when he got sent off by del Cerro Grande. Just like Mascherano's challenge earlier, it was on a clear goalscoring chance, and it was a deserving red card.
After the second half chances were dominated by Sevilla, it was suddenly Barcelona that had all of the attacking intent, and looked to kill off the tie before extra time. However, Sevilla held on and kept their season alive for another 30 minutes.
Extra time
Just like the cup finals in England, Italy, Germany, and Portugal, the Copa del Rey Final was to be decided in extra time. It's the second time Sevilla and Barcelona were playing extra time as well, after Sevilla overcame a 4-1 deficit in the UEFA Super Cup. However, this was a tighter, more intense affair with a lot more on the line.
And while Suarez's injury was a big blow, they still had Lionel Messi and Neymar. It was the former who came through in extra time, as his brilliant ball played in to Jordi Alba gave Barcelona the breakthrough. The finish was a thing of beauty, too.
After that goal, Barcelona came through with wave after wave of attacking play, but Sergio Rico did his best to keep his team in it. However, once Alba scored, there was no looking back for Barcelona.
Messi would later provide a second assist on Neymar's goal to put the icing on the cake. The plays that he made on both goals proved to everyone why he's the best player in the world.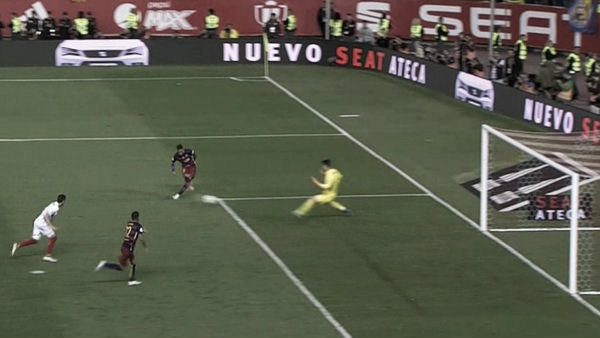 The win gives Barcelona 28 Copa del Rey trophies, which is the most in the history of the competition. While Sevilla did their best to try and take it away from the defending champs, they couldn't capitalize on a man advantage, and once they got a red card of their own, that's when they lost all momentum.
Barceloma didn't make it easy on themselves, but they still got the job done.