Ahead of the Champions League Final against Atletico Madrid, Real Madrid centre-back Sergio Ramos spoke with El Laguero a Spanish radio sports program based in Madrid.
On his move to Real Madrid
Ramos talked about his early days at the Santiago Bernabeu, when he joined in 2005 from Sevilla at the age of 19: "When I arrived I had Zinedine Zidane to my left and Roberto Carlos to my right."
He revealed a fact which implied he was nervous once he arrived at Real Madrid when telling the reporters: "I don't think I said hello until I was 23." But went on to say how he felt about Zidane and Carlos: "They were idols, megastars, what could a kid say to those great players? Roberto took care of me."
Ramos has now been at the club for 11 years, doesn't seem like he will be leaving anytime soon. He goes on to talk about the offer he received from Manchester United.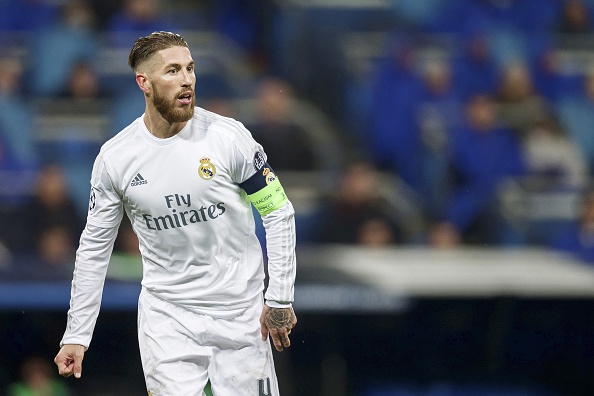 On the Manchester United offer
The captain was linked with a big money move to Manchester United during the summer window last year, but he decided to not accept the offer and went on to sign a new five-year deal with Real Madrid.
With Manchester United finishing fifth in the league this season, it would have seemed that Ramos would be taking a step down if he had joined the Premier League side. He revealed: "It's good I didn't go to Manchester."
Manchester United had an embarrassing campaign in the Champions League, not finishing in either first place or second place to qualify for the knockouts. Meanwhile, Real Madrid are soon going on to face Atletico Madrid in the Champions League final, surely Ramos will feel really happy about making the right choice.
On the Champions League final
When talking about the final on Saturday, Ramos laughed about Real Madrid struggling against Atletico two years ago until his header in the 92nd minute gave his side the equaliser. He goes on to say how much it means to get into the Champions League final: "The first time (in a final) is like when you make you make love, you always remember it, but it is true you can always improve, as to start with you're a disaster."
Ramos will always remember his first Champions League final and especially playing a big role to keep the side hopes alive of winning it ten times. His header was followed on by Real Madrid winning 4-1 in extra time. He mentioned: "The first one remains special as I had a leading role with a great goal, but I am optimistic and ambitious."
Ramos has a big chance of winning the Champions League for the second time and a win would mean Real Madrid will extend their success in this competition to 11 times which still makes them the most victorious side in this competition. Ramos ends the Champions League conversation by saying: "Hopefully I'll have the good fortune to lift (the Champions League trophy) again."