This will be the second time in three years that Atletico Madrid and Real Madrid will get set to compete in the Champions League Final. Atletico were heartbreakingly close to shocking the world and completing the double after winning the La Liga crown earlier that year, but Sergio Ramos hit a last-gasp equalizer. From there, Real Madrid never looked back as they raced out to three goals in extra time to complete the long-awaited La Decima.
While the storyline surrounding this year's final is whether Atletico will be able to get revenge on Real for 2014, their manager Diego Simeone doesn't see it that way. In fact, he hates using the word "revenge", because it's a "negative word, because it harks back to a defeat."
Instead, he sees this final as an opportunity, not only for Atletico to win their first ever Champions League, but to potentially join Europe's elite. Simeone defines the word opportunity as "optimism, confidence and what's to come" which he wants to show in the Champions League Final.
Real Madrid are a top three team in the world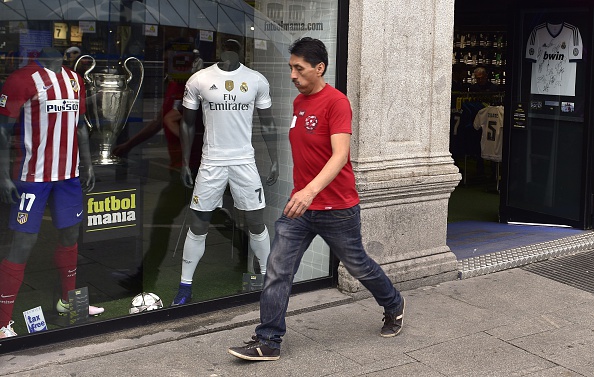 Rather than use the Champions League media day as a way of making some thinly veiled insults at Zinedine Zidane's squad, Simeone expressed how much respect he has for Real Madrid. He knows that they've already beaten Bayern Munich and Barcelona, "two of the top three teams in the world", but Real Madrid is the third one.
Real are different from their past two Champions League opponents because "they're a much more direct team who are a massive threat from set pieces." Even though Atletico may be the best defensive team in Europe, Simeone praised Pepe, Sergio Ramos, Casemiro, and Raphael Varane's defensive ability (although the latter is out of the Champions League Final). All of those players serve to "add balance to a team [that has] a lot of firepower."
Simply put, Real Madrid are a team that's built for the Champions League. When they were having trouble in the league earlier, it just let them focus more on Europe. Cristiano Ronaldo also has nearly twice as many goals as the next leading scorer, and is one goal away from tying his own record of most goals in a Champions League campaign. Perhaps even more astonishing is the fact that 2010 was the last time Real Madrid didn't make it to at least the semifinal stage of the Champions League.
Differences between 2014 and now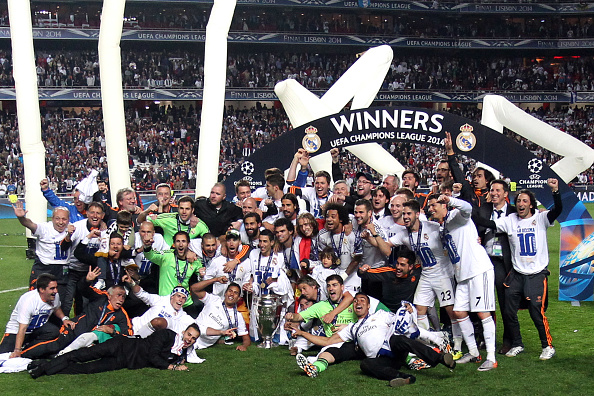 Real have won 10 Champions League to Atletico's zero. But Simeone insists that "you have to live in the present" and isn't interested in looking at what the history books say. As he said before, this Final will give Atletico the chance to make a name for themselves, and create a new generation of success that will include sustained Champions League fortunes.
Simeone states that this year's team are better prepared coming into this year's final compared to 2014, reminding people that they came into the game "six days after a title decider", and with both Arda Turan and Diego Costa injured. There were also more journeymen, so to speak, citing in the likes of David Villa, Diego Ribas, Raul Garcia, Mario Suarez, and Jose Sosa.
"This squad is full of young players who are going through all this for the first time and will undoubtedly come out much more mature for the experience," something that is in keeping with Simeone's philosophy of focusing on the future.
Atletico have a tighter budget than their city rivals, yet they are always able to retool and replace their star players with younger guys that show potential. This year's final is sure to be an intriguing matchup between youth vs. experience.
​All quotes are obtained from Football Espana.